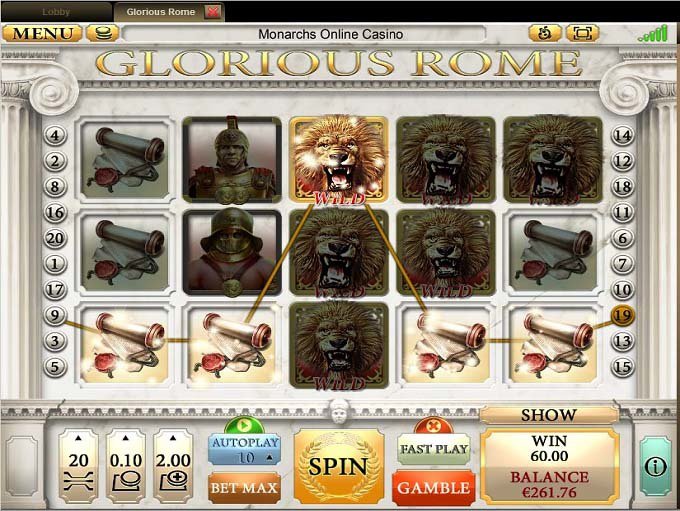 It's been always interesting to my why some people constantly look towards something new, while other feel comfortable with that there is. What motives as to seek for something new? Perhaps it enables us to think in ways that differ from established lines of thought. I know that when I see something new and different it instantly has a positive effect on me; it doesn't matter how big or small some change is.
I get that kind of an excitement when I see newly released slots; it's as if I get some new hope that I will win big playing it. That feeling overwhelmed me the last time I visited Monarchs Casino. They had two new games to offer and I couldn't wait to try them out.
I've been to Rome a few weeks ago and I have to admit that I wasn't blown away with it; perhaps expectations were too high. I hoped that my experience with the "Glorious Rome" slot would be different. I started playing with €250 and a €2 bet. Quite easily I triggered 10 Free Spins and won €35.50; I thought it was a nice start. I liked that scatters turn into Wilds in a winnings combination, and thanks to it I got a nice €60 win in one spin when I got to just over €260. After that as if someone has put a spell on the slot; nothing! I dropped to €170 rather easily, and being very disappointed I quit playing.
Another new slot was "Great Reef" and I continued with a €1.25 bet. I had one good win with Sharkys and Wilds, which brought me €54.75! Everything else was waste of my time and money. I was smart enough to stop having €100 on my account hoping that next time I decide to play here is going to be more fun and enjoyable.
Markotik