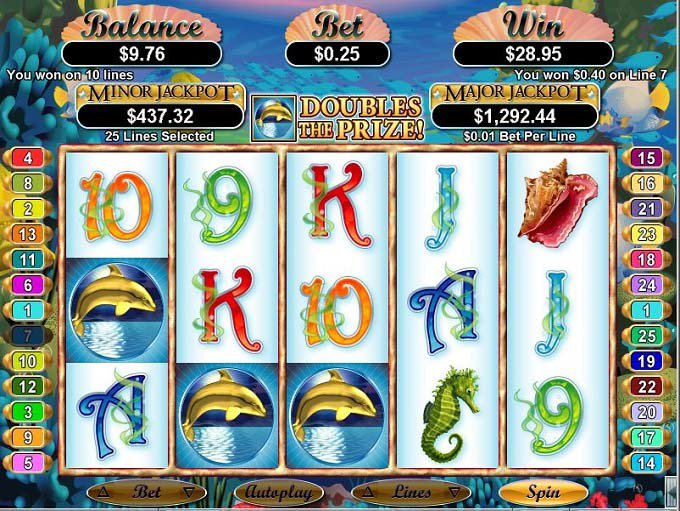 I had just $20 on my account so I went straight to one slot I thought would be a good option to start with - "Haunted Opera". The Phantom of the Opera is one of the most popular novels and no wonder that there's a slot inspire by it. I love the book and I fell in love with the slot the first time I played it. Over time it has become one my favorite slots, especially since it is usually very generous to me. But this time it was different, it let me down. As always there were not many empty spins and at least I was satisfied with a bit longer play time; I even had some modest but nice wins of around $2. I thought I gave it enough time, but since I couldn't trigger Free Spins having just $10 on my account, I decided to stop and give a chance to another slot.
Probably the best win playing RTG slots has been with "Ocean Dreams". I can't remember whether that has ever happened to me before, but I triggered 10 Free Games in the first spin! I won decent $28.95; I couldn't have wished for a better start. I continued playing, of course, and luckily, it turned out it was a good decision. I didn't have to go thought too many empty spins and it seems that the slot was very generous, looser than what I'm used to. It's not like my dreams were coming true, let alone my ocean dreams, but I had fun and I managed to trigger Free Games two more times. I haven't won as much as the first time, but $8.45 and $12.90 came in handy; I keep the balance just above $40.
I was more than happy that I managed to double my starting balance. I just can't wait to come back to Sloto'cash and continue my adventure.
Markotik