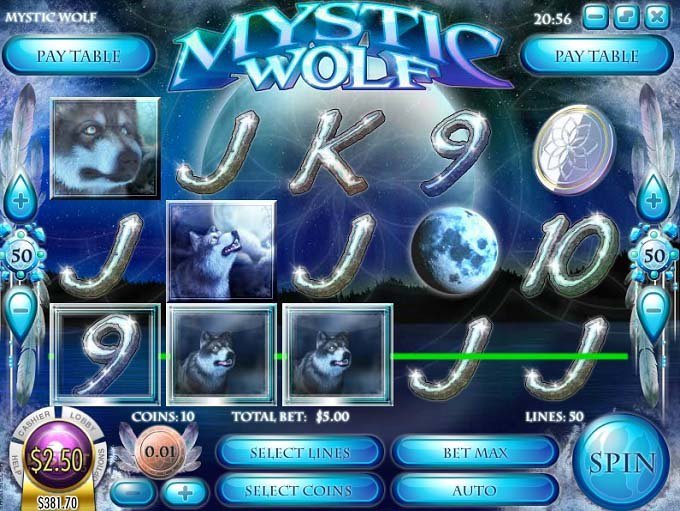 There has been some on the forum about what software members prefer and although I've never been a fan of it, a few members mentioned Rival. It's been quite a long time since I've played any Rival slots and it seems that they've improved a lot. I was off to Desert Nights Casino to see what all the fuss is about.
I logged in and chose to play Mystic Wolf. It's a 50-line slot game which can be a bit expensive to play if you prefer smaller wagers. I bet my bet to $5 a spin and right away I hit a $68 win across several paylines including the 5x wolf wild. I'd say it was a good start and I found myself quickly becoming a Rival fan!
I liked the cool blue graphics and the mystical star that sparkled as the reels spun. I was so busy being mesmerized by the stars that I didn't notice that I hit nearly $300 with the help of those 5x wolfs. At this point I was sold on this software. I needed no more convincing because I'm hooked.
Then three feathers landed on the reels triggering 7 free spins. I could not believe my eyes when I won $408! It seemed that not only had I chosen the right slot but Rival was no longer my rival!
Froggy