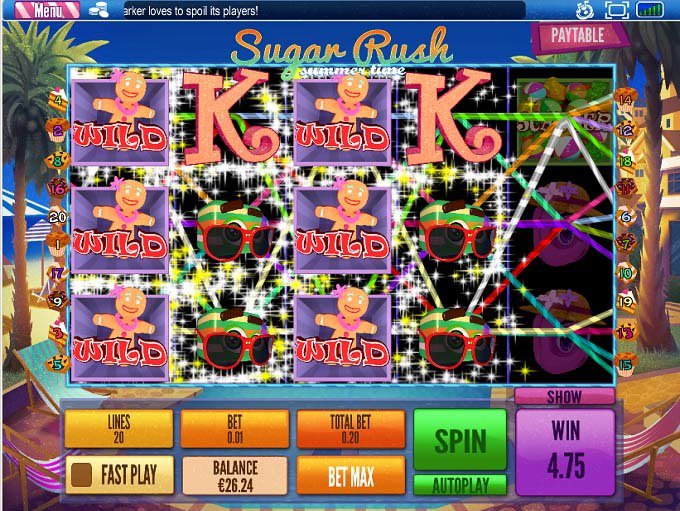 Lately I've been reading disturbing news regarding our climate changes, as you would expect, changes for worse. New studies show that melting section of the West Antarctic Ice Sheet is in an irreversible state of decline. That means that there's nothing to stop them from melting into the sea. These glaciers are melting faster than most scientists had expected, and there's enough ice to raise sea level by four feet or 1.2 meters. As we successfully speeding up our planet's way to its inevitable end, it seems that another hot summer is ahead of us. It's May and it's already so hot that I'm melting.
With €25 on my account I decided to give a try again to Grand Parker Casino and, considering our weather conditions, the "Sugar Rush Summer time" slot. I played with a €0.20 bet and only after a few spins I triggered The Bonus Games. I don't like that feature because I don't understand its rules; for some reason I won €0.75 on this occasion. I had some good wins in the base game so I raised my balance for a few bucks, but later on it was uneventful. After a while I stopped playing; I couldn't trigger anything again.
I then went for a simpler version of video slots when I chose to play "Wild Sevens". But it was a complete failure. I actually got bored so I decided to stop playing. It's not that here were too many empty spins but wins were too small and I couldn't trigger the Free Spins. As it often happen, I was getting two scatters, which was useless, of course. Being fed up with it all I decided to go out for a walk with a friend; the weather was pleasant since the Sun was beyond horizon.
Markotik