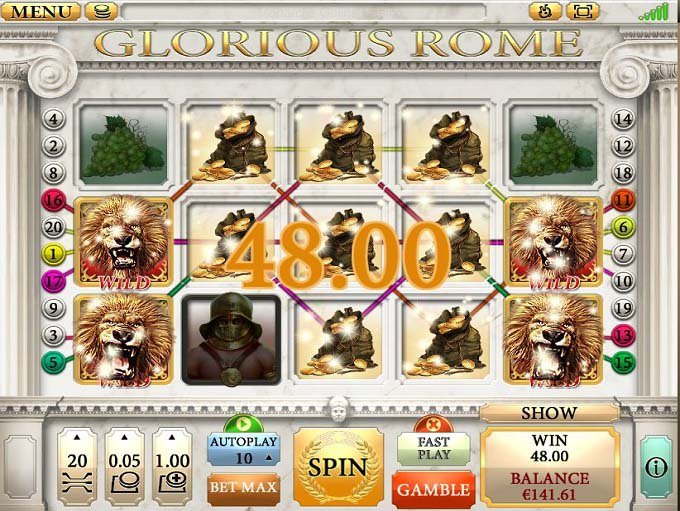 There are so many different slots that you can play nowadays; different software providers compete for our attention with their creative, innovative and entertaining releases. I anticipate every new game with a great enthusiasm; sometimes my expectations are fulfilled, but sometimes they are not. A few weeks ago I went to Monarchs Casino and saw a couple of new slots; needless to say that I had to check them out.
One of those games was the "Glorious Rome" slot, and it was a pretty good one. Perhaps I wasn't too happy about it, but I was sure that I would give it chance again. So when I got that opportunity, I gave it a shot. I played with a €1 bet and after only a few spins I got a very nice win in the base game! I won €48; within the next few more minutes I used generosity of the slot, and raised my balance to €155. Unfortunately, I triggered no feature, and the slot went cold on me so I finished playing with €120.
Then I again tried the "Wild Sevens" slot even though it had been very unlucky for me before. And again, it started very nicely with some wins in the base game. I triggered Free Spins, but won only €0.88. I decided to raise my balance to €0.75 anyway and I hoped for the best. I triggered the Bonus Game twice and won €8 and €5. So after a good start and getting up to €130, everything went downhill.
I can say that I'm proud of myself for stopping that avalanche so I will be able to continue some other time perhaps with more success. Losing money is so easy; it is important though very difficult to quite before it's all gone.
Markotik