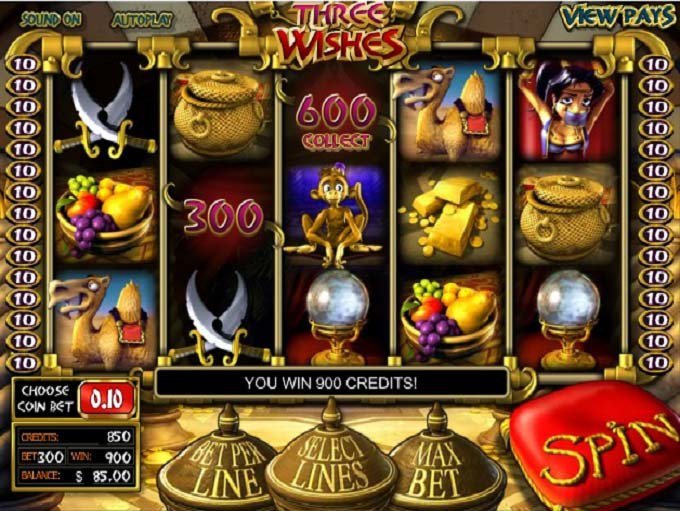 If I had three wishes I'm not sure that they'd be that dramatic. Some would wish for all the money in the world, houses, cars or beauty but I think my three wishes would be for health, love and happiness. It's simple and it's also something that sometimes we take for granted. Feeling confident in my wishes I was off to Gossip Slots for a few spins on the Three Wishes slot game.
I started of betting $3 on this 30-line slot. On my second spin I triggered the "Pick Me" bonus and won 600 credits. It wasn't too impressive but there was still time. I had only just started.
I was in the mood for a little excitement so I raised the denomination to 10 cents. The "Pick Me" bonus was very popular and came up several times. The most I had won was 900 credits with 2 selections. This bonus is triggered when the monkey appears on the center reel. He shakes the symbol that you select to reveal your win. I don't know if it's just me but that little monkey shaking those symbols is on the verge of obscene. Like I said, maybe it's just me.
I hadn't won big money playing Three Wishes but I did get a good laugh every time the monkey sprung into action!
Froggy