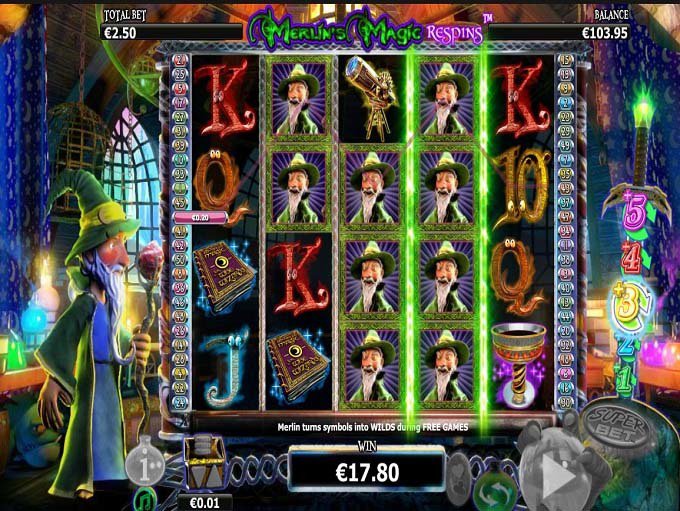 We have all heard about love-hate relationships and very often I have that kind of a relationship with casinos or casino games. When I'm playing (and losing) I consider never playing again, but when I'm not playing then I think about how I should play more. So, for me it was important to understand that slots are fun and entertaining pastime. Lately, I have learnt to enjoy gambling much more especially within my budget limits. Well, the casino I have mostly only a loving relationship is CasinoLuck.
But it also depends on games I choose to play; some slots are rewarding while others not so much. Since it would be nice to win some money magically I picked to play the "Merlin's Magic Respins" slot. It seemed that it was an interesting idea, but it turned out that the slot was really bad and boring. I started playing with €130 and a €1.5 bet; I was unpleasantly surprised how bad it pays. It was pathetic. I can appreciate that the Free Spins feature is triggered very easily, I got quite a few times, but the winnings are so low. The first time I got them I won €3.65. After that I wanted to stop, but I continued playing with a €2.5 bet. I had one good win of €17.80, and I thought it meant some kind of a change. But no, I still didn't like the slot, but I kept playing. I got the Free Spins again with a €1.5 bet, but won only €7.10. After that I wasn't even tempted to play any longer so I finally quit.
I played two more slots, "Napoleon Boney Parts", and "Big Bad Wolf" which was the only one a little bit rewarding thought I couldn't trigger the Free Spins. Its base game was really good and I even managed to save my balance for later. "Big Bad Wolf" was also the only slot that gave me some kind of hope for the next time so I'll be sure to play it again.
Markotik