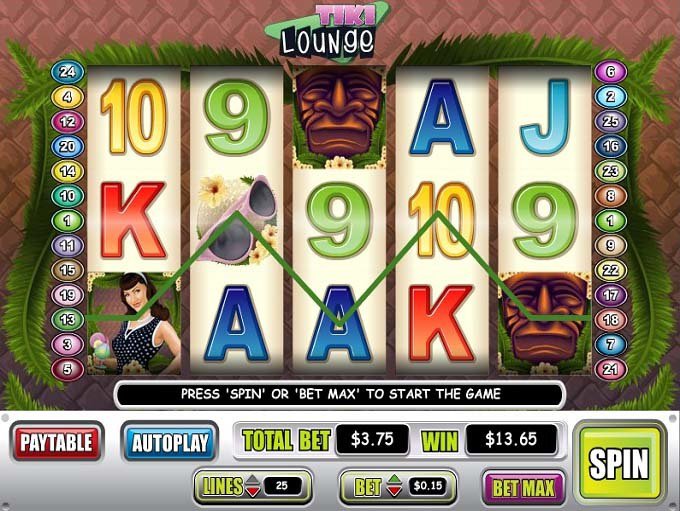 Part of the summer fun is lounging around outside with the light of the tiki torches, good company and a fruity cocktail. It was a beautiful day and I was daydreaming about being in a tropical paradise with no worries. The perfect Liberty Slots game to suit my mood was Tiki Lounge. I was transported to the lounge immediately and hopefully I'd come home with some extra cash!
I set my bet to $5 per spin and decided to see where it would take me. It wasn't much of a party atmosphere and my eyes began to glaze over. I don't recall a single win that even covered my bet at this point. This Tiki Lounge was a complete bore so I switched things up and moved on to the next. In my mind by switching my bet I was moving to another lounge. Surely you understand.
I was now wagering $3.75 a spin. As soon as I lowered my bet the girl with an exotic drink in her hand appeared on reels 1 and 5 awarding me 20 free spins. I assumed that the tiki masks were the bonus symbol but I was wrong. Anyway, I don't like that the free spin wins don't tally or at least let you know how much you've won at the end so I can't tell you what I won exactly but it wasn't much. My balance hadn't jumped up significantly.
I played for a bit longer and decided to leave the lounge. I didn't come home much richer but it was nice to get out!
Froggy