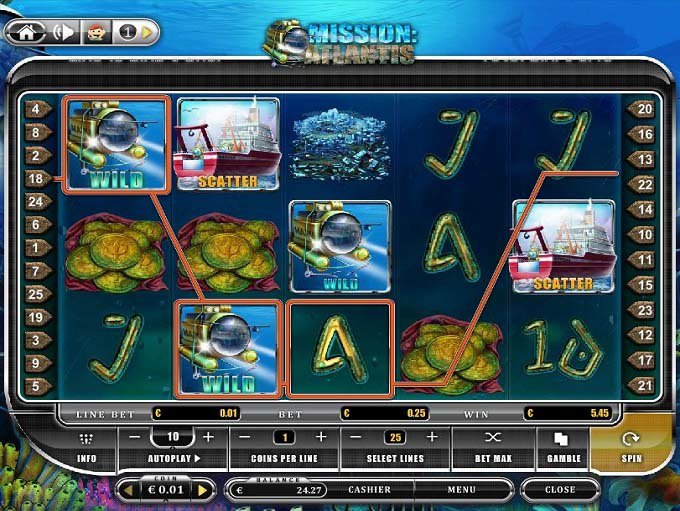 I often stick to the slots I like to play, which give me confidence that could win. So, occasionally I like to mix it up and try out new slots for me. That was what I did the last time I visited Sin City Casino. The first slot was "Tortuga Gold"; I had high hopes to at least double my starting balance of €45. The slot has many wilds but they almost never appear and I didn't even have a chance to trigger the Free Spins feature. I guess those pirates robbed me and they took €20. Luckily, I was smart enough to stop there and save something for later. The pirates were impressed so they had to let me go.
Another new slot for me was "Quice Slinger", but unfortunately shortly after I started I quit. It was just boring and all I got were empty spins. I was close to €15 when I started playing the "Mission: Atlantis" slot. This one started off great for a change. I had some nice wins, and it seemed that my mission was going into the right direction. For a while nothing happened but I kept believing; luckily I was rewarded with 10 Free Spins and 3x multiplier. I won modest €4.10, but more importantly, with a good base game I actually raised my balance. The slot was very interesting and entertaining especially since I managed to trigger the Bonus Game a few times. The winnings were very modest, not really worth mentioning, but since there were piling up, I actually finished playing with €25. So I think I need to be satisfied though it was bad that I couldn't trigger Free Spins again.
Hopefully, I will go on a new mission soon and I know just what the right slot to play is. I like when I discover a new slot that I can enjoy and who knows, perhaps next time it will bring me even more money.
Markotik