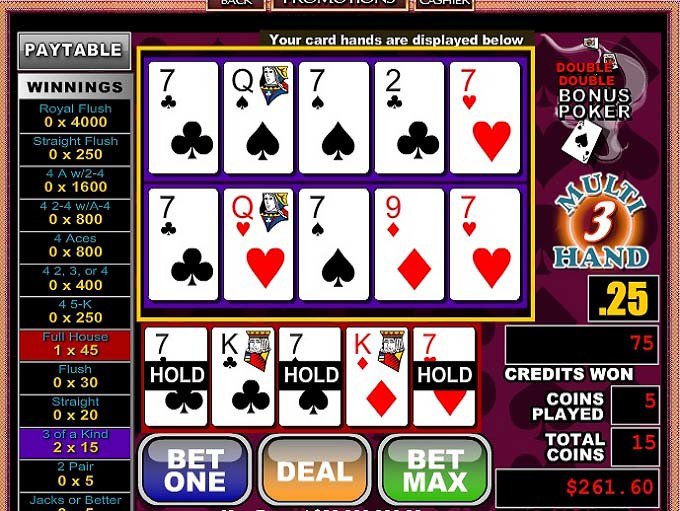 I will be going to Tunica, Mississippi this weekend and I love to play Video Poker in land based casinos. I was always a lover of slots until I saw how much I could win playing poker. Slots just never have the same payout. I was caught up in the excitement and decided to practice a bit at Aladdins Gold casino.
I always play Double Double Bonus Poker so I loaded the three handed version. I have seen quite a bit playing the land based casinos and so players hold cards that I just don't understand. I seen people sit down at a Video Poker machine and look at it like it was from another planet. It's no surprise that the multi-hand versions are expensive to play and I always chuckle when someone comes along and plays one hand and cashes out once they realize how steep the bet is.
I had played several hands on the $0.25 denomination at this point and my best had was three of a kind. I finally hit a full house for 45 credits. The flushes were rolling in like crazy for a while but then I was back to a pair here and a three of a kind there.
Then I made a really stupid mistake. Every once in a while it happens when I play Video Poker. I hit the buttons so fast and miss a card that I meant to hold. I was dealt three 2's and only held two of them because I was careless with my clicks. Now I was annoyed but it was a good reminder to watch it while I'm in the Tunica casinos.
Overall, this session yielded less that exciting results but I was given an invaluable reminder to pay attention!
Froggy