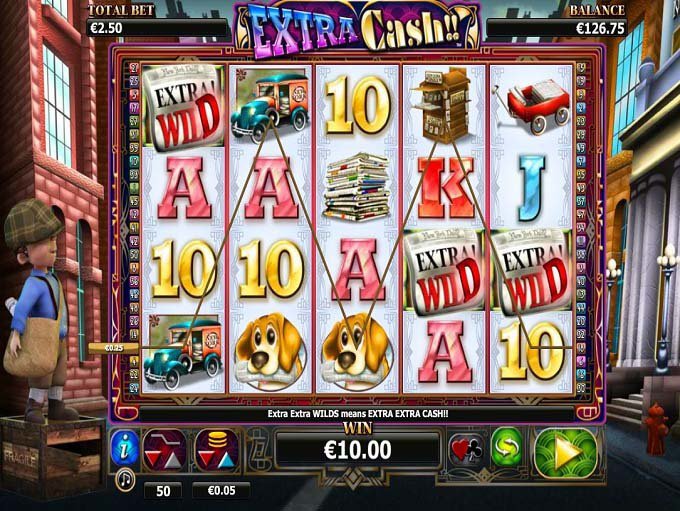 It doesn't matter how much one has, everyone thinks about how to make some extra cash. Some unexpected expenses could come up or even vacation finance could be sorted out that way. All around the world there are some cool jobs like a mystery shopper or to be paid for your opinion; you can earn some cash just for giving a feedback.
It is not a surprise I like the "Extra Cash!!" slot and thought about giving it a chance again. I made a deposit and played with €200. I'm usually a lowroller, and this time I chose to play with a €2.5 bet. It didn't go as well as I hoped; yes, the base game is good and I had some really good wins, but there was no sign of Free Games. I got to €100 having relatively long playtime, but knowing how good this slot can pay, it was very disappointing after all.
I have to admit that WMS slots are very interesting, especially since I haven't had many chances to play it before. The situation has changed and I use almost every opportunity to spin. This time I clicked on the "Zeus III" slot, and it almost made me regret that I chose it. I got to €15 having only rare wins so much as that I could count them on the fingers of one hand. I'd already started thinking very dark thoughts; having €25 on my account I clicked on auto play, not really carrying what would happen. After another €10 lost I triggered 10 Free Games, which I didn't even noticed happening. During those 10 Free Spins I had one winning spins, but it was a really nice win….. I won €85.15! At that moment I was all worn down, so even though I was happy about it, I decided to quit there.
I was back to €101, and that's what counts. Perhaps next time will be even better.
Markotik