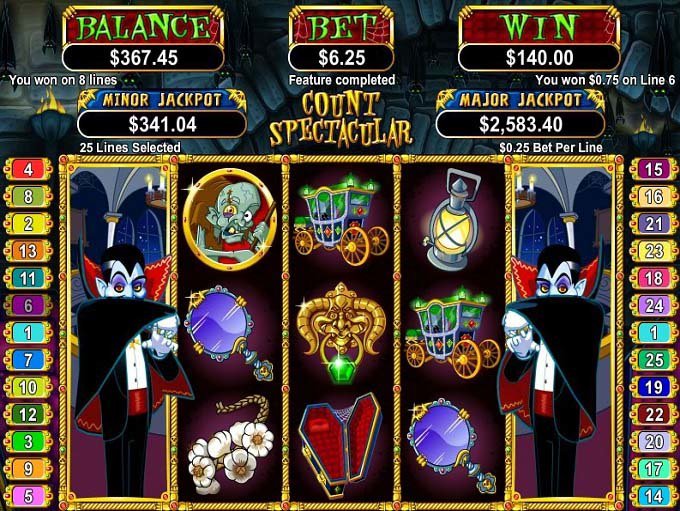 I had been channel surfing all afternoon and finally landed on a vampire flick. They actually make me queasy so I'm not even sure why I was watching it but it inspired my Club USA experience. I logged into the Instant Play version and selected Count Spectacular.
I kept my wager fairly low at first spinning at $2. I was hitting some pretty good wins but I was spinning so fast that I had no idea what they were. I realized that I need to take it easy. The excitement just got the best of me! My next spin included wilds on reels 1 and 2 for a winning combo of $34.80. That was a good return on a $2 bet. Now I was even more exciting but I had to turn that turbo off.
I went through a dry spell and several series of spins that were duds. I took a smoke break and came back to a totally different experience. First of all I raised my bet to $6.25 and as soon as I did the bonus was triggered. I decided to go with the 4 re-spins and won just over $150!
It wasn't long before reels 2 and 3 turned wild for a decent winning combo of $81.25. I hit another bonus and too the re-spins again for a $140 win.
I was about to let the count suck the life out of me so I got out of there with my winnings as fast as I could.
Froggy