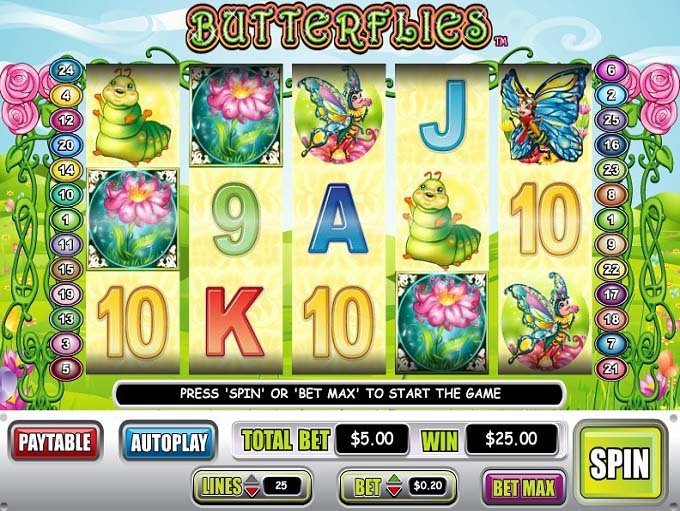 Butterflies are such beautiful little creatures. Whenever I see one I think of it as a loved one I've lost passing by to say hello. I remember walking along a lake last summer and seeing more butterflies than I've ever seen in one place before. They were hanging at the water's edge and I just sat down and watched them in awe. I could only hope that they were there just for me. I was scanning the slot games at Liberty Slots and landed on Butterflies. I just had to play it!
I started out betting 5 bucks a spin. The graphics of the different butterflies are so whimsical. Even the green caterpillar was squeezable. I couldn't help but instantly transform into the best mood. With this slot game, two matching butterflies equal a payout. With a lot of other slots, two matching symbols don't pay anything unless maybe it's a Scatter.
At this point, my best spin was two pink flowers for $10 and I got it back to back. From looking at the paytable I needed to get a house on reel 1 in order to trigger the bonus feature. I swear as soon as I had looked at the paytable and took a spin, I triggered the Butterfly Feature. The butterfly randomly lands on symbols turning them wild. I won $12 or so. Unimpressed I was back to spinning and hit three pink flower scatters for $25. The base game seemed to pay better than the feature.
It was a pleasant afternoon of spinning as my bankroll floated up and back down again. Sometimes it's not winning but how much fun you have playing the game that counts.
Froggy