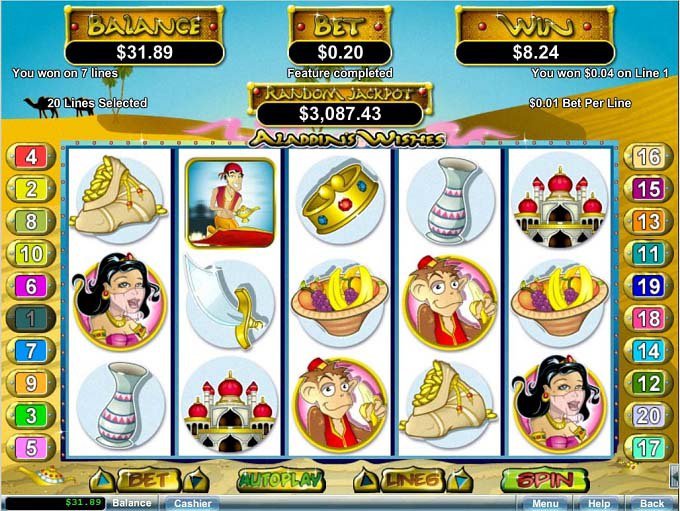 We make tons of very quick decisions unconsciously; often we don't dwell much over any of those but sometimes we do, and it takes a lot of our energy. Even though playing slots could sound very naive to some, I think it is actually a very serious business. It's about our money and how we spend it considering that playing slots should be fun; it's a game after all.
I went to Grande Vegas Casino with $25 having that realistic but optimistic idea of how I was going to just enjoy slots. The first slot was "Aladdin's Wishes" and I got 25 free games fast which helped me relax to continue playing. Well, I won modest $8.24, but still it was a nice start. It got even better when I triggered them again and won $6.74. I kept playing and finished having $30 on my account. I thought it was a solid start.
I then switched to the "Basketbull" slot and it wasn't too bad; I had a few good wins in the base game; I triggered the feature, as well, though I got only six free games. They brought me only $2.66 but then I got nice surprise - 5x multiplier. My total winnings were $3.91; I was back to my starting balance and instead of stopping there I had to play more.
Some dark forces came over me and I couldn't resist them; I was sure about it since I chose to play the "Vulcan" slot. Needless to say that I lost everything; at the end I even lowered my bet to $0.04 so that I could wait for a feature. I finally got three scatters and 15 free spins. I won $1.88. This volcano, like any other would, has melted all my coins.
This decision to continue playing was bad and I had to deal with it. This hasn't happened for the first time, but just have to hope it was the last time.
Markotik