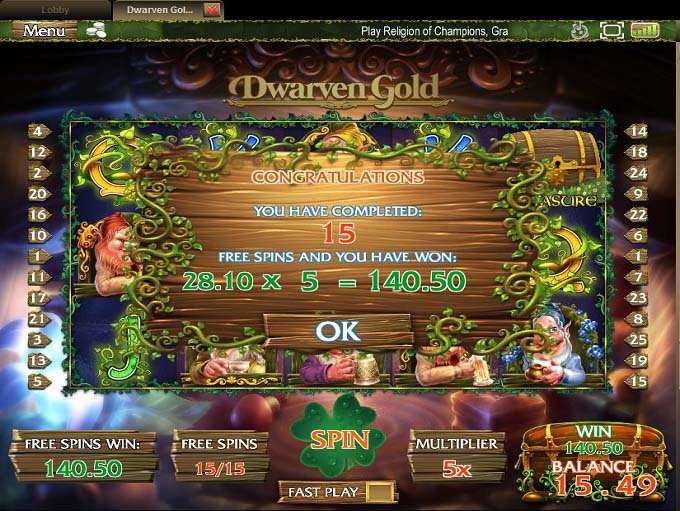 The World Cup in Brazil is over and I have to say, there have been many unforgettable moments. There were so many surprises, both negative and positive. But I have to say that Germany has really shown the most, and it is a well-deserved winner. Since everyone was talking about soccer or football (depending on where are you from) no wonder that many software companies have released football-themed slots. I discovered one when I logged into my account at Grand Parker Top Game Casino.
But before that one I stumbled across the "Dwarven Gold" slot and it seemed a very interesting release. And it turned out it was a generous one; I started off with a very modest €15 but already after a few spins I got 15 Free Games with a 5x multiplier. My winnings were really nice considering I played with a €0.25 bet. At the end of the feature I had €140.5, and then with some nice wins in the base game I got to €167! I after a while I decided to stop playing having €150 on my account.
Of course, I tested another new slot called "Religion of Champions Brazil"; I got 10 Free Spins, but won pathetic €0.40. Later on, I guess the slot needed time to warm up, I got some nice wins in the base game so I kept my balance stable without much trouble. I got Free Games again and this time I won not so satisfactory €5.88. I kept playing and I finish with the exactly the same amount I started - €150. Well, I couldn't help but thinking how lucky I was to not end up the same way Brazil closed their campaign in The World Cup.
I was very happy with the games; I finally had some luck with my small deposit so I will enjoy all the winnings.
Markotik