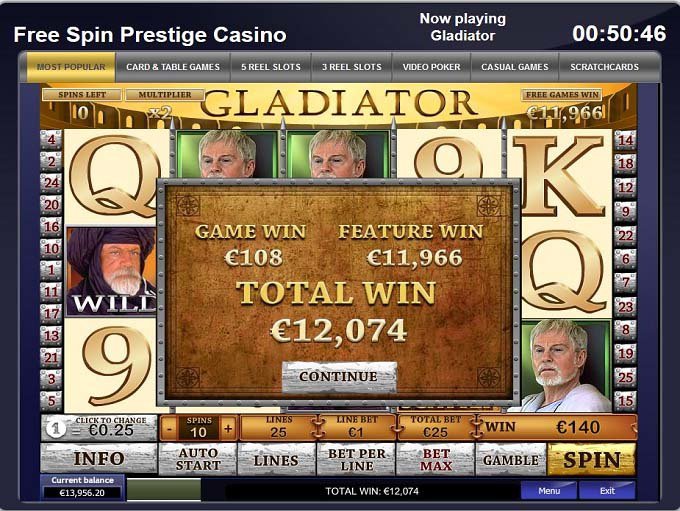 Even though I don't like such promotions and I can't remember the last time I took a big bonus for only one hour, I changed my mind when I accidentally stumbled across Prestige Casino; upon opening an account I got €1500. Perhaps I don't like that because I have never managed to cash out from such promotions. Knowing my luck I thought I should be happy if I keep my balance over €700 so I'd be eligible to withdraw €20, though a deposit is necessary before cashing out potential winnings.
The first slot I wanted to play was "Gladiator" and the first impression was really weird; I used to play with so small bets that this seemed like I was doing something wrong. I started with a €25 bet but after I won €228 in a Gladiator bonus game I realized I have to step it up. But that was just a beginning; I raised my bet to €100 and then I triggered 8 Free Games with a 2x multiplier. At the end I won unbelievable €12.074! But that wasn't all; I triggered the Bonus Game a few more time winning €2104, €1760, €2060, and €1272 respectively, bringing my balance close to €17000. I continued playing with a €200 bet because I needed to be sure about the wagering requirements. I played the slot around 40 minutes and was done having just over €8000.
I didn't have any time to celebrate so I jumped to the "Rocky" slot. I had some really nice wins in the base game but it was almost impossible to trigger any feature. Having less than five minutes left, I finally got 15 Free Games with a 2x multiplier. I won decent €2475 playing with a €125 bet! I couldn't believe it when I saw I ended this promo having around €1700. The only downside was that I could cash out €300, which was disappointing, but I knew rules so it didn't take me much to accept the reality. Now I just want that everything goes smoothly.
Markotik