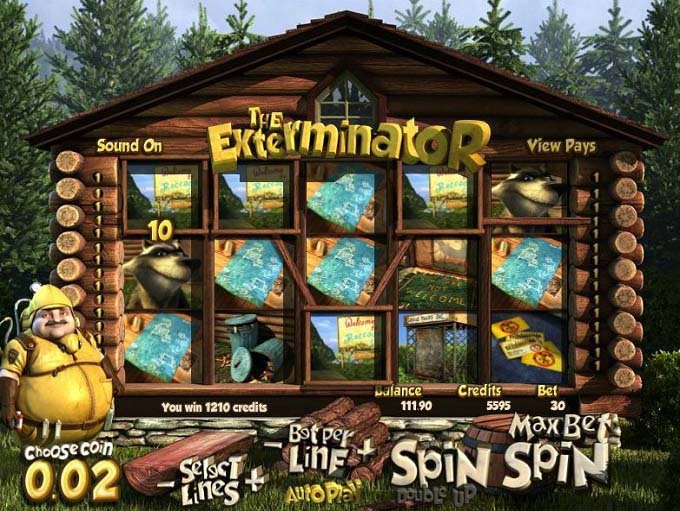 I find Moneystorm Casino a nice online place to play slots. They have a good game selection and it is always difficult to choose between amazing 3D slots. I had €90 on my account, and I hoped it would be enough for some nice wins and even perhaps to raise my balance.
Since it is important to keep your apartment or a house clean from all bugs, calling an exterminator should be an easy thing to do. Though I can't even step on an ant, I have no problem stepping on cockroaches. Without much hesitation I chose to play The Exterminator slot though this one is dealing with a sweet raccoon not disgusting cockroaches. It's so funny and lovely animated, like most 3D slots, and it's a great pleasure to play them. It is even better when a slot is generous, and this one was. I triggered The Bonus Round effortlessly winning €24.20. Sticky wins were amazing and really helped keeping my balance high and stable. I got The Bonus feature two more times earning €6 and €18 more. I finished playing the game with €130, so I ended the session being satisfied with the result.
Another slot that I like is "Rook's Revenge"; I have triggered Free Games almost every time I played, and on this occasion as well, though it took me a while. After so much waiting, the winning was very modest – €2.90. I continued playing and the base game kept on giving; I had some nice wins with 3x and 5x multipliers. The slot has so many nice animations that I didn't notice when the slot went cold. At the end I had €120 so it was still a great result. I raised my balance €30 so that was okay and I can't wait to continue playing. Sometimes I wish I could play slots all day long.
Markotik