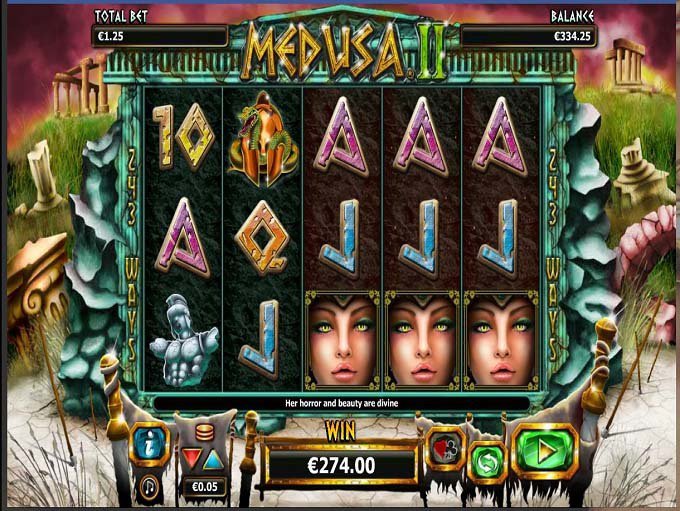 I remember discovering NextGen slots was very entertaining since I found them really good and generous from the first time I tried them out. One of my favorites was the slot called Medusa; I played it quite a few times and almost every time it paid off. When I heard that a sequel would be released, I waited for it in anticipation hoping it would be a worthy sequel. It turned out it was a great game so when I visited Betsson Casino I used my opportunity and started the "Medusa II" slot.
Having €200 on my account, a new adventure could commence. My bet was €2.5 even though the beginning wasn't very promising. I managed to get 10 Free Games and won modest €17.50; modest considering my bet size. Having already lost €100 I lowered it to €1.25, but I just couldn't give up. When my balance was showing €75 I finally triggered Free Spins, and it was worth waiting that long! It was amazing; during the initial 10 Free Games I retriggered five more and my total winnings were €274! I felt both excited and relieved at the same time. Only a few spins later I got another 10 Free Games with additional five winning €62.75, and bringing my balance up to €375! After that I thought about changing a slot but at that moment I got an amazing win in the base game of €72.50. Following that win I got the feature again retriggering it twice; I won €56.50 in total and my balance was showing very satisfying €475. I had a feeling that the slot could give even more so I continued playing. Very importantly, I was right! I got Free Games again and I won €103 which meant that my balance got over €500! After a few more spins I called it a day.
I had amazing €510.25 on my account. I was just so happy with the slot, and that it proved to be a good one, at least for me.
Markotik