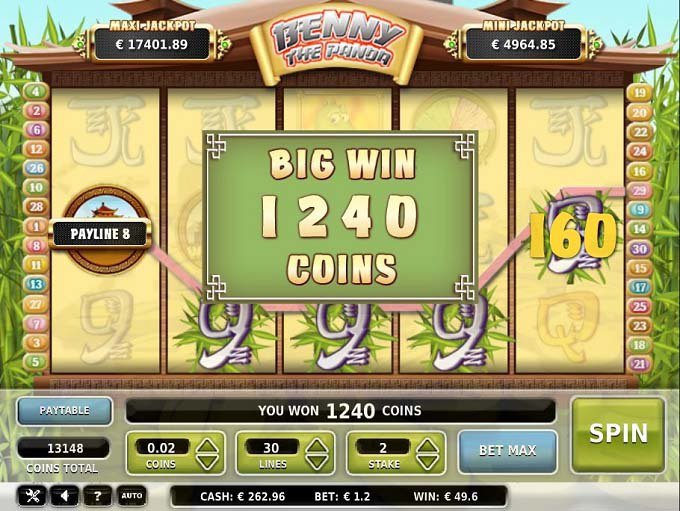 There aren't too many people who don't like superhero movies, and I'm certainly one of those who can't skip even one. I also enjoy playing superhero-themed slots; one of those is "Superman" which I played at 377bet Casino. I had €220, and decided to start playing with a €2.5 bet, but soon I was forced to lower it to €1. Even triggering 10 Free Spins didn't bring much good since I won only €19.12. When I was down to €175, I realized that slot was empty and it was not going to pay anything.
I couldn't resist playing next slot – it was "Benny the Panda". I mean who can resist pandas, they just so cute. I also hoped that the game will be good as well. I played with a €1.2 bet and my first impression was very good. It has a very solid base game; I even managed to bring my balance back to €220. I had more good wins in the base game and my balance got to €260! I played the slot for such a long time and I was getting impatient – I wanted to trigger Free Spins. And finally I did it, and it was a letdown. I won very modest €5.60 in 10 Free Games. I was very happy I finished playing with €250.
It was a great game, I was pleasantly surprised. So the next game I chose was "Unicorn Legend", the slot I wanted to play for some time. It started bad especially since I played with a €2.5; my balance was melting fast. I triggered Free Spins and I chose 20 and I won 62.90. I recovered my balance to €235. I triggered them again choosing 15 Free Games but with higher multipliers; I won only €12.50. Luckily, I got them for the third time winning €19.40. Good thing is that I finished with €250, which was great.
It was a very exciting session and I enjoyed that rollercoaster of losing and winning in one session.
Markotik