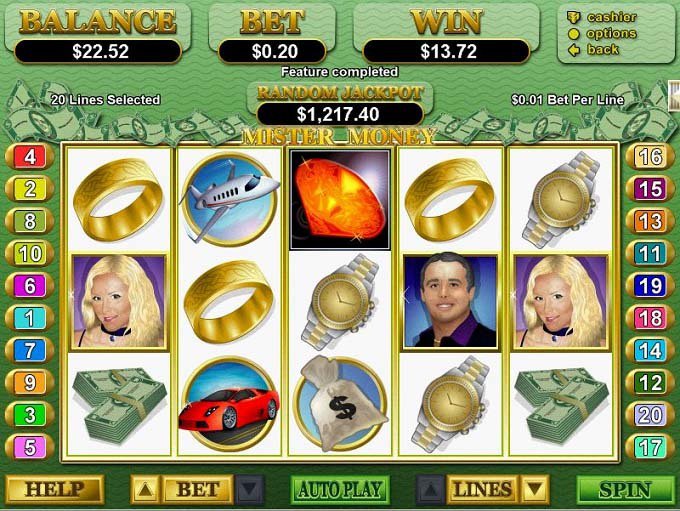 It is so easy to get addicted and I've always wondered what it is in the human nature that makes us so weak and vulnerable. All addictions will ruin lives one way of another so I think that when it's spotted, it is necessary to look for help. Above all I think that slots should be fun. And in order to have some fun I went to Free Spin Casino to play some of my favorite online slots.
Even though the "Mister Money" slot doesn't look too attractive I decided to give it a try. I had only $10, so it was risky to play an unknown slot but sometimes it is good to take risks. I didn't know what to expect but my weariness was comforted when I triggered 8 free games and I was lucky enough to retrigger another 10! I won perhaps modest $13.72, but they boosted my confidence to keep playing. My balance was around $25 for a while and when I got to $20 I got a feeling that the slot didn't have much more to give so I stopped playing.
The next slot was a bit more summery. I've never played "Naughty or Nice Spring Break" before either so I hoped it would go well. I've never liked slots with a feature guaranteed because they are usually useless and that was the case again; I didn't have a decent win until the feature was triggered. That was devastating. And then I got $4.05 – another disappointment. Having less that $15 I started my favorite slot "Haunted Opera". Quite fast I triggered five free spins and with 13 extra free spins I won $17.37. I know it can give much more but I was very happy since my balance got $30!
After a rather long session, I felt good for more than tripling my money. All in all I felt good playing some new slots; it's a refreshing feeling and now I even think that I could do that more often.
Markotik