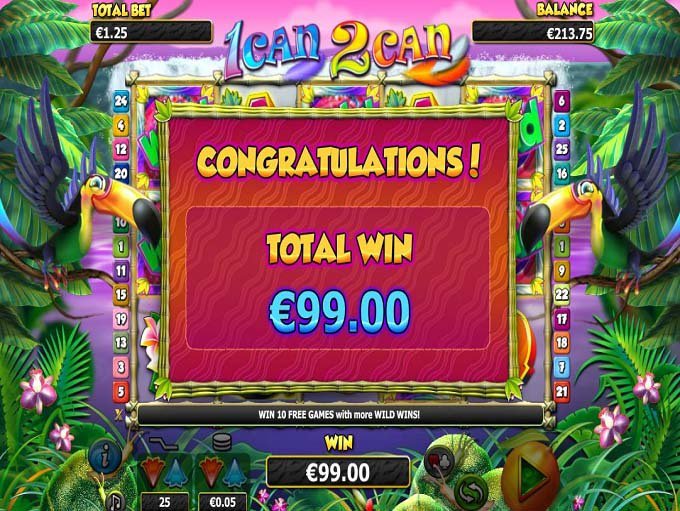 For some time I was listening about the "1Can2Can" slot so I finally decided to play it. I had €150 and went to Guts Casino; it's one of the better online casinos nowadays in my humble opinion. My bet was €1.25 and I was ready for a tropical adventure. It turned out it was an awful game, simply awful; I was so disappointed; small wins, no scatters. While I was whining about this slot, out of the blue I triggered 10 Free Games. I wasn't too happy about €19.50 win, and even though I was acting like a little brat, I started to appreciate the slot. I raised my balance back to €114 again, when I got the feature again, and this win is worth mentioning - I won €99! Eventually, I finished playing having €215! It turned out that patience is a virtue… well, it is sometimes in gambling. I felt I was being very lucky and my impression about the slot went from awful to very good.
Another slot I played was "Timber Jack". I raised my bet a bit, to €1.80; and again, the start was awful - almost all dead spins. Until I triggered five free spins winning solid €32.10. I had €186 on my account so I was more than happy to continue playing; as long as I could finish having more than €150 which was my starting balance. I didn't have to wait long to trigger free games again, and this time I got four scatters which meant ten free spins. I won decent €49.80 and I brought my balance back to just over €210. With some really nice combinations I got to €220, but soon after I realized it would be a good moment to stop; I felt that I took from the slot what it had to give at that moment.
It was a real thrill to play these games; both slots turned out to be lucky for me, which made it easier for me to feel the thrill of playing.
Markotik