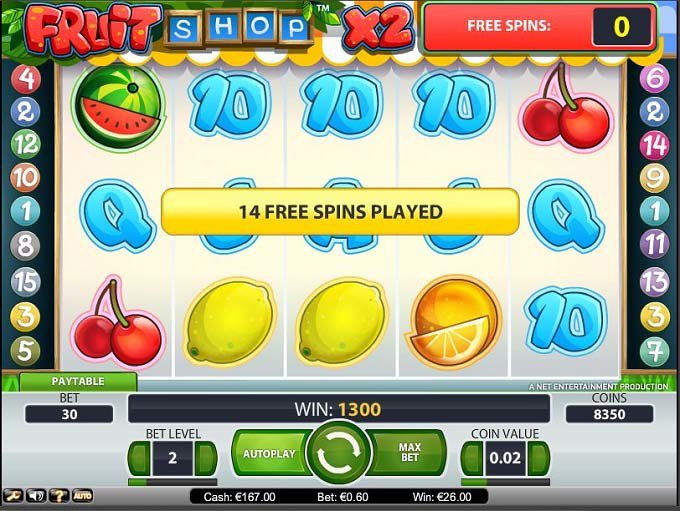 For many gamblers playing online casino games is very exciting, with money playing only a secondary role. All casino games have some aspects in common; but they are different by the degree of player control that they allow. For me, it is a great excitement to play slots even though it is very unlikely that I actually have any kind of control over the games. Some people find slots very dull and the least favorites, but I guess we all have our preferences and aspects of looking at different games.
I have thrills and chills playing at Thrills Casino; I love that place, it has my favorite slots. I first chose to play the "Fruit Shop"; I had €125 on my account and I started spinning with a €0.60 bet. I was getting Free Spins fairly often and on a few occasions I got nice wins of around €30. Relatively easily I got to €170. After that I kept playing and Free Spins were popping up often but they all were empty. I was losing money, but then… I was saved by the bell; my phone rang, and I decided to answer it.
After the pause I continued with the "Big Bad Wolf" slot and a €0.50 bet. I love this slot for some reason even though it has never been too generous to me. I had a few good wins that would build up to €10, so I managed to keep my balance between €150 and €160 for a while. Unfortunately, I got to my starting balance waiting for the free spins, but I couldn't trigger them… so sad. This slot keeps on disappointing me over and over again. It was already very late; I was tired, and I just wanted to sleep.
I just hope a bit better outcome when I continue this gaming session.
Markotik