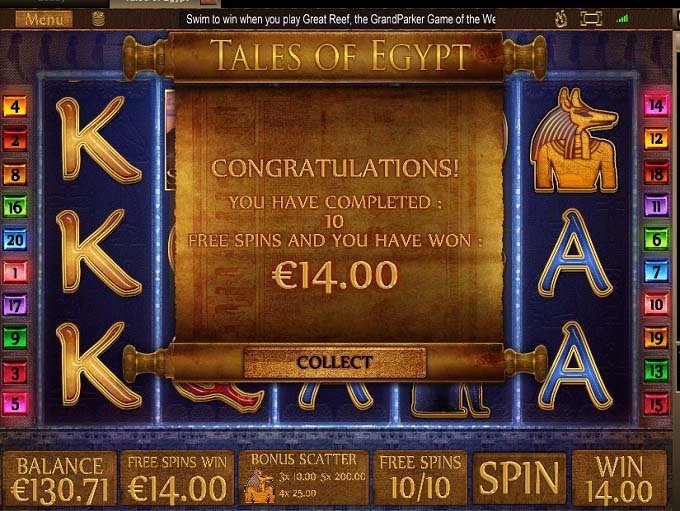 It is not too surprising that there are so many Egyptian-themed slots, and even though sometimes I'm really bored with some, I keep playing them. Top Game has recently released another such slot and I had to give it a try. I wasn't too excited about it, but it's a new game so there's always some kind of excitement. I went to Grand Parker Casino and chose to play that new slot called "Tales of Egypt". I had decent €150 and thought it would be good to play with a €1 bet. But it was so bad that I had to lower my bet to €0.40! Eventually I got 10 Free Spins but the winning was modest - €14. I continued playing but it was a bad decision – I lose some more money.
I then tried the "Glorious Rome" slot, which I find very interesting since I like the theme. Even though a slot design is important, I find it entertaining only the first few times I play a slot. After that I care only about pay table. I knew that playing such slots was very tricky since there are so many dead spins. I got the feature and in 10 Free Games I won €12.90. I had some very nice wins during the base game so I eventually raised my balance a little bit having €135 on my account. After that I tried another slot that was really unlucky for me and even then, I wasn't really sure why I chose it. The "Great Reef" proved to be disastrous for me again. Actually what happened was that after a few dead spins I got irritated and I quitted.
I have a feeling that next time I play these games it might be quite different; I might win some big bucks. It wouldn't be too surprising since it has happened before. Hopefully, the feeling is right.
Markotik