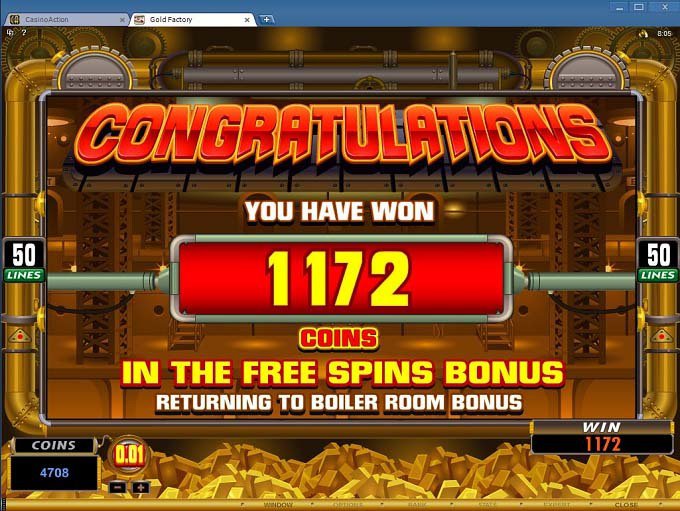 I think that most people like jewelry but I'm not one of them. I don't have any and I specifically have explained to everyone that I don't want any presents like that; nothing golden, wooden, silver… or anything like that. On the other hand, having gold bars is completely different thing – in that case I love gold. One of my favorite slots is "Gold factory" and I played it at Casino Action. It's a great place and I hoped for the best, as always.
I started with $40, and really fast I triggered the bonus game during which I was lucky enough to get free spins. During 25 free games I won modest $11.72, but my total winnings were $23.22 so I got to $57.08 rather easily. I even got to $60 with the base game. I started getting two scatters way to often so I knew better than to keep playing. I decided to stop having $50 on my account. I got some really nice wins that kept me in play for a long time, so even though I didn't raise my balance a lot I did enjoy the game.
Then I made a rooky mistake by choosing to play the "Girls with Guns" slot. I know that it can pay well, but I'm not really fond of playing 243+ line slots. Before I could even notice I was back where I started - $40. I had second thoughts about continuing of course, but all of a sudden it started giving some nice wins. I got back to $45 just with the base game but then I got under $40 when I triggered Free Spins. During those 15 free games I won pathetic $2.37, and for me that was a sign I have to stop.
The positive side is that I had a pretty long play time and that counts for something. I actually felt tired and I didn't know which slot to play next so I thought it was a better idea to continue playing later.
Markotik