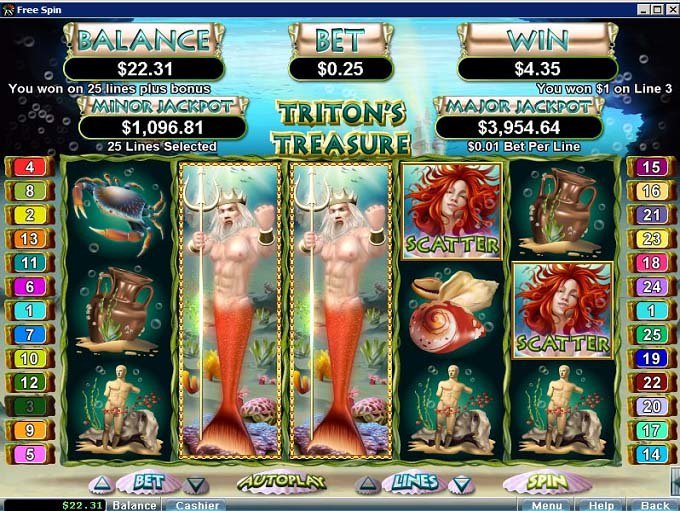 It is hard to find a gambler who isn't superstitious or has some routines while playing slots, table games, or bingo. There are lucky charms, lucky spells, perhaps even feng shui for some. Well, when you're inside your own home you have rights to do whatever you want, and if you think it brings you luck, I guess there's no reason to stop. I on the other side think that I have lucky slots and when I'm in trouble I come back to them to dig me out of the hole.
After a while I went back to Free Spins Casino not having a clear idea what I wanted to play. I first chose the "Lucky Last" slot. I had $30 on my account and I started off playing with a $0.25 bet. And long story short, it was awful. I lost $10 in a matter of seconds so I moved on. I moved on to the "Triton's Treasure" slot and I continued with a minimum $0.25 bet, and nothing again. I had a couple of good wins but I decided to stop having $15. Perhaps I should have played longer but I would get two scatters in almost every single spins so that was annoying.
And then my last try, my last hope was my favorite slot ever "Haunted Opera". If that slot can't help me out no other will. After a while I got Free Games and triggered three extra spins; I won't only $3 but I still raised my balance a bit since the base game was generous. Only a few spins later I triggered the feature again! And this time the outcome was much better for me. I got 67 extra spins!! The winnings were modest but I'm so tankful - $25.49! It brought my balance up to just over $39! Now that's what I call a good slot.
In the end, this was a good session I even raised my balance so this is a good platform now to continue next time.
Markotik