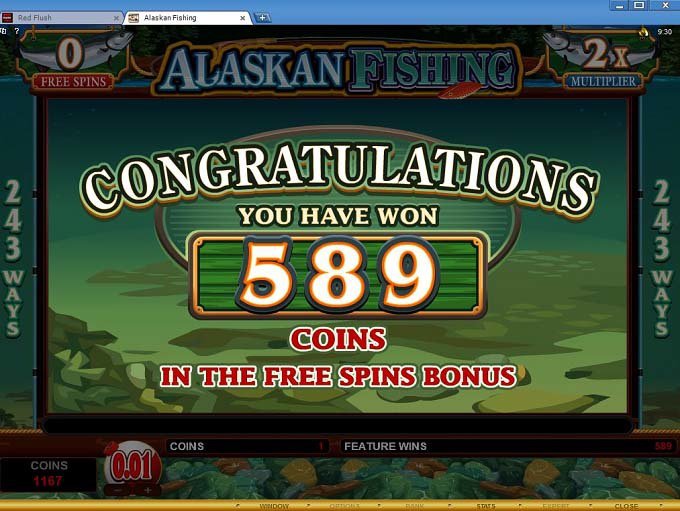 I've spent a weekend with my parents recently and it was nice since they bought a house by the river away from the city. It was beautiful and each time I went for a walk I saw many people fishing. I like it too but only in slots.
It's no wonder I love to play the "Alaskan Fishing" slot. So, when I went to Red Flush Casino I had one game in mind. I knew that €10 isn't much, but stull I was hopeful; my bet was $0.30 but the beginning wasn't too promising. To sum it up, I had lots of ups and downs between $10 and $5, so at the end I had a pretty decent play time, which itself is a really good thing, and that enabled me to trigger 15 Free Games. Unfortunately, it wasn't the time for my big break – I won modest $5.89. If there's a good thing to look for, I finished playing with the same $10.
Then I tried the "Robin Hood" slot but after only dead spins I decided not to play it any longer; I simply had a bad feeling about it. I could have been wrong but I guess I won't know that.
I gave my last chance to the "Avalon" slot and it seemed to be a good decision. I played with a $0.20 bet and got some nice wins, and even having only $5 I had a long playtime. Unfortunately, how it often goes, I lost everything not triggering the bonus round. With only a few cents left I lowered my bet to $0.02, and on the second spin I triggered the Free Spins I won $0.28 with one winning spin. That's how my session finished, quite unsuccessfully.
Well, I didn't manage to at least double my balance and there could be many reasons; could be that I chose a wrong game… or two, but I can't dwell on it too long. It wasn't too bad I had a good time and some nice wins.
Markotik