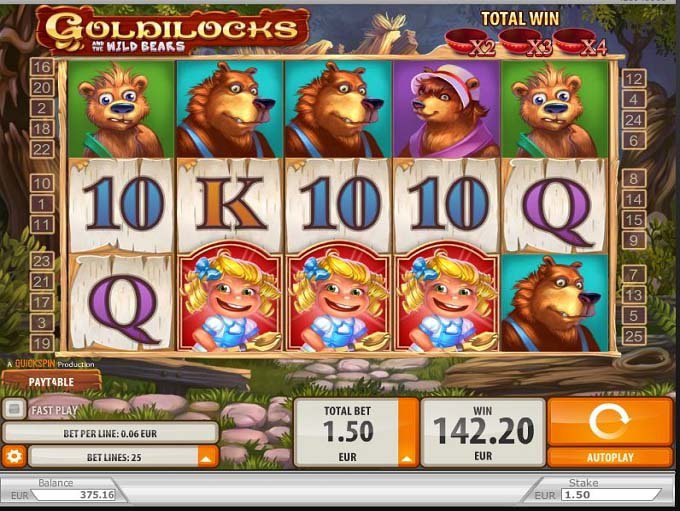 There are so many good TV shows nowadays and I try to keep up with them and watch as much as possible. Needless to say that I'm a TV junkie so there's not much that can happen without me noticing it. Just the same way I find time to play slots in my busy schedule I find time to watch an episode of my favorite TV show. I guess it is not too difficult when you really want it, and we all know old saying when there's a will there's a way. So naturally, it often happens that I first watch an episode on my laptop and then turn to slots.
Last time I went to Unibet Casino I decided to play the "Goldilocks and the Wild Bears" slot; I just love that slot, had some success playing it both for fun and real money. This time I had €100 and I started off my adventure with a €0.75 bet. Rather fast I triggered 10 Free Spins, and I won very satisfying €75.27 – that was a noticeable change for my balance. At that moment I had €172.87 on my account, so I raised my bet to €1, and very nicely earned more money – over €180 just with the base game, quite incredible. Amazingly, I got the Free Spins again and I won even more this time; with another €92.44 I got up to €261.38! I decided to keep playing and luckily I won just over €60 in one single spin. I was amazed that I tripled my balance. But I wasn't ready to stop – I even raised my bet to €1.5! And again, I won 10 Free Games. This time I won €142.20 finishing my real, wild adventure with €375!
I simply had no idea which slot to play next so I thought to take a break think thoroughly about it and continue playing later, or maybe I should just cash out.
Markotik