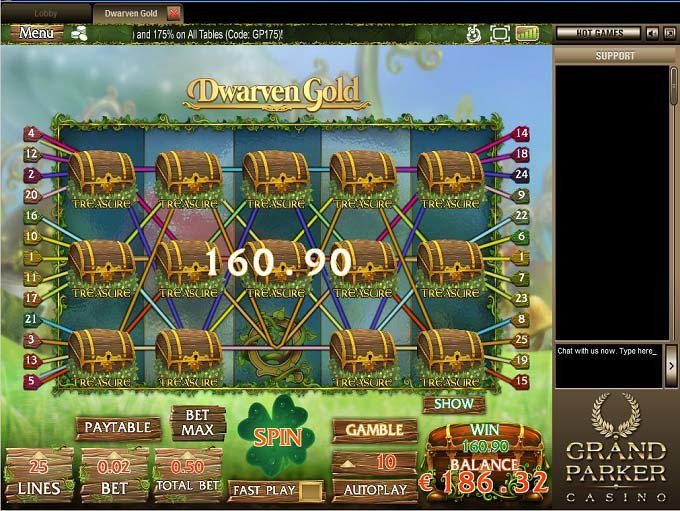 There are not many TopGame casinos where I like to play but one of them is certainly Grand Parker so I went there after a while with a slot in mind.
I had nice memories about the "Dwarven Gold" slot so I used this opportunity to try it out again. So, I started off with €125 and decided to play the slot a bit riskier, which meant I raised my bet to €1.25 – perhaps that doesn't sound too risky, but I thought it was. I couldn't have asked for a better beginning since I easily raised my balance by €30. After that things started going downhill so I quickly lowered my bet to €0.50, which felt much more comfortable. And then, out of nowhere I hit a great win with one spin of €160.90; my balance jump up to €260! But I was still to trigger Free Spins – after I lost €60 I realized it was time to stop, and anyway, I played the slot for quite some time.
My next choice was a classic looking slot machine – the "Wild Sevens" slot. My bet was €0.75 and I had many wins in the base game so my balance was malting slowly – I guess that was a good thing; I had to take something positive. In this game I managed to trigger Free Spins though too bad they only have five, for three scatters at least. I won €15.30; it was a nice win though not enough to recover what I had lost previously. Eventually I finished this session having €190. I just know that this slot can pay nicely; I had quite a few "almost great" wins, but those symbols, including Wild were all over the place. Considering it's a 15-line slot, that was unacceptable.
Good thing was that I managed to earn some money and make a good platform for a next time.
Markotik