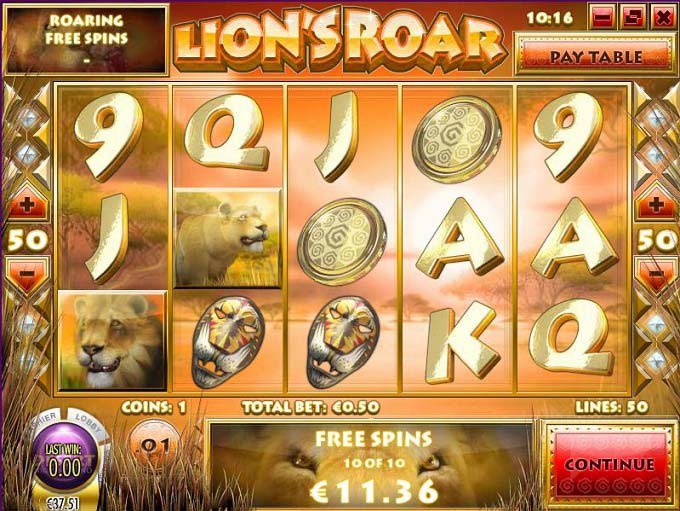 Sometimes I realize that I don't play at certain casinos, or better say certain software, for a while and I start to miss those games. I often think that I should play them again, because they would be lucky for me – sometimes they are, and sometimes not.
I haven't played Rival slots in a long time, and I thought that Desert Nights Casino would be an appropriate place to go. There were a few games I wanted to play so I started off with the "Lion's Roar" slot and €35 on my account. The minimum bet was pretty high - €0.50, and relatively fast I triggered 10 Free Games during which I got the Roaring Free Spine triggered twice and won €11.36 in total. Since the base game is basically one dead spin after another I decided not to play for much longer.
I then played the "Blazin' Buffalo" slot and I really hoped for some good wins because the bet here was also €0.50. I triggered the Bonus Round and since I didn't find the buffalo, I got a reward for trying, which was €15. After a while, and many empty spins, I triggered seven Free Games, but unfortunately I won pathetic €0.45; I was forced to lower my bet so I played with 20 pay-lines. I triggered the Bonus, but this time even though I found the buffalo, I won just €2. Additionally, new Free Spins brought me only €0.31 – I "heard" it loud and clear, "Stop playing these slots."
I heard it but I didn't listen to the voice. I actually went on to play the "Mystic Wolf" slot – ironically, it was the slot I really don't like. After only a few minutes I lost all my money. Well, that was the moment I actually stopped playing. It was just one of those days when it would be better I stay away from slots… oh, well.
Markotik