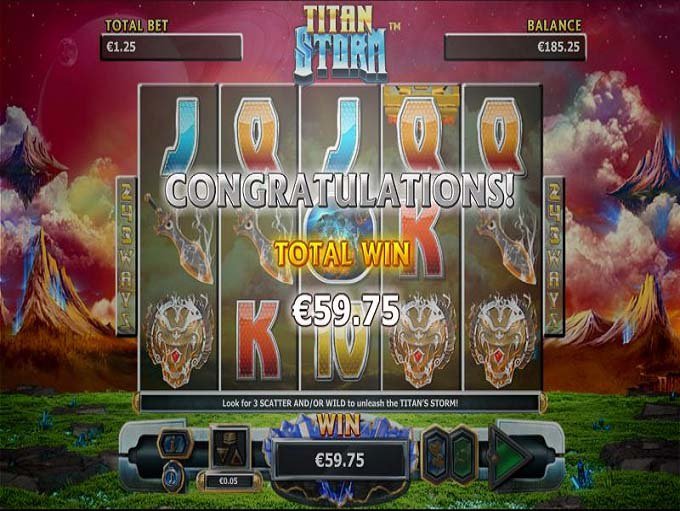 Probably anyone who's interested in Greek mythology knows about Titans. They dethroned their father Uranus, their mother Gaia persuaded them to attack him, and then the Titan Cronos was appointed by the Titans to be their sovereign. In short, he started behaving like his father and was dethroned by his own son – who else but Zeus. Being fascinated with Greek mythology, no wonder I just couldn't wait to play the "Titan Storm" slot. I went to CasinoLuck with €150 and started playing with a €1.25 bet.
Since nothing much was happening, I had only occasional nice wins; I hoped that it was the calm before the storm. The slot has so many dead spins that it almost became depressing playing it. I finally managed to trigger 10 Free Games, and I won €59.75 with only one of two winning spins. The Free Spins have such an amazing potential, anyone can easily see it, but of course I wasn't the lucky one to experience it, as it often happens. I have to say that when I managed to win something it would always be a good win, but it happened way too rarely. That's why I stopped having €185 – I didn't want to turn into a dethroned ruler.
Then I went a bit further to the East, to India, and I played the "Pearls of India" slot. I started with €1 bet, and after a few dead spins, with one nice series of €39 and I got up to €199! Unlike the first slot this one has many small wins, so when I triggered 10 Free Spins I won modest €4.20. I thought of stopping there, but decided to wait for the bonus game and I finally collected 25 temples. I chose the Wall of Shiva, and with that game I won €9; I then decided to click the gamble button, clicked Heart and won €36!
This win helped my raise my balance back to €188 so that was the moment I decided to stop, and I think it was a good decision.
Markotik