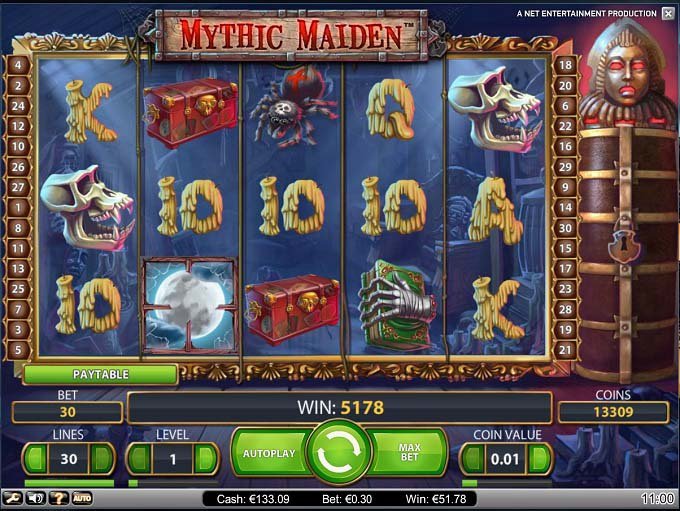 It's Halloween! The holiday has a long tradition in the United States, since 1800s when Irish and Scottish immigrants brought their Halloween festivities. Nowadays, children but together with grownups dress up in great costumes and go trick-or-treating door to door. Far more importantly for me, there are so many different promos and exciting games to symbolize this holiday. It is so exiting and choosing which slots to play isn't easy especially at Sin City Casino, which is one of my favorite online places.
When there are NetEnt slots offered it's hard to just go pass them, so I chose to play "Blood Suckers". I started off with a nice sum of €80 but I still thought that a minimum bet of 25c would be appropriate. It's a great slot, I have to say, there are not many dead spins and it pays well. Luckily, I triggered 10 Free Spins winning €8.83! I also won the Bonus Game but I wasn't really successful – I earn only €1 with it. After a few spins I triggered 10 Free Games again, and this time I won €6.23. I wasn't surprised that I ended up having €90.65 on my account. I was very happy with this slot, with both base game and the features.
Even though I played the first slot for quite some time I wasn't ready to call it a day. So, staying in the Halloween spirit I chose to play the "Mythic Maiden" slot with a minimum bet of 30c. It was quite a different slot, more dead spins but with great wins almost every time, even with weaker symbols. Being quite ecstatic, I triggered the Free Spins. In 10 free games I won pretty decent €51.78; it skyrocketed my balance up to €133.09. Quite a crazy and exciting slot; great music, sounds and atmosphere! Yes, I had some more dead spins but with some even nicer wins I actually finished playing with €145! It was another proof that this slot is worth playing.
It was such an amazing time for the Halloween and nice warming up for a light night party.
Markotik