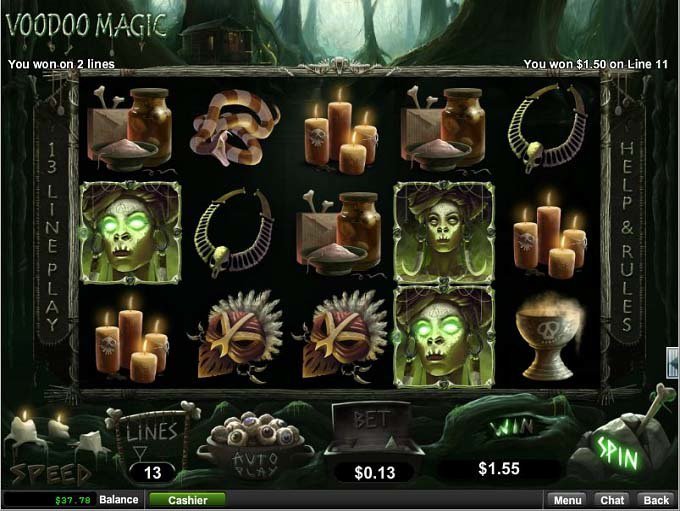 Life often takes turns we are not expecting; I often finish doing things I've never thought I could when I was younger. As a kid I hated math, but later on I learned a lot. I also never liked to cook, and I still don't like it, but I have to because I want to live healthy. So, I learned to somehow enjoy that activity. These twists and turns happen often, and they can wake up a wide range of emotions. These zigzags are so usual for casino game, we all have gotten used to it.
Even though I haven't played any RTG slots recently, I was pleasantly surprised with the "Voodoo Magic" slot; it seemed to be a good one so I hurried up to Free Spin Casino to try it out for real, especially since I've read some good reviews about it. If others have some luck with it, perhaps I will too.
I started off with $35 and it looked like a really good slot indeed. I had some nice wins, so the beginning certainly was promising. I earned a little bit over $5 playing the base game so I hoped that the feature was just around the corner. But unfortunately and strangely, it shifted so easily during the same session. I was disappointed because I had some high hopes after the beginning. After a while I just got fed up with the game so I gave up; I had a decent playtime considering the bet was only 13 cents.
And then I made a huge mistake by choosing to play the "Crystal Waters" slot. I've rarely played this game because there's a freeroll tournament. So, I basically knew that the slot isn't very rewarding, at least for me. Well, I guess I've got what I deserved; before long all I had was one big fat zero on my account.
I didn't really want to acknowledge that I was getting mostly two scatters the whole time – I usually give up if such scenario is presented to me. Ah… this thing happens, and I think that's fine as long as I'm within the budget limits.
Markotik