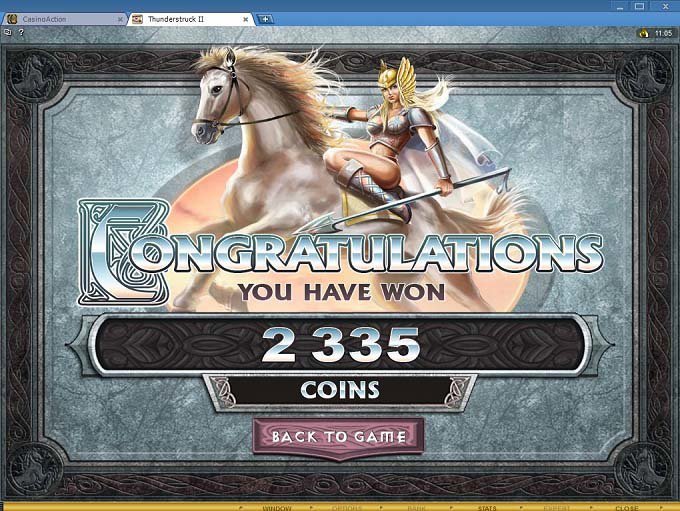 Sometimes it is important to feel like a movie stay and have someone say "lights, camera, action!" only for you. That's how I feel at Casino Action every time I play there.
I've visited it recently, and it is one of my favorite online places even though Microgaming isn't my favorite software though it's very good one. First I played a slot I love; it's my favorite "Thunderstruck II"! The bet was $0.60 which I thought would be okay since I started playing with $100. It started off really well, but shortly after it went cold on me, but I still didn't want to give up on my, a bit higher bet. I decided to risk a bit longer and wait for that feature as long as possible.
I would often get some good wins which prolonged my playtime, but when I fell under $80 I was forced to lower my bet to 30 cents. It really took me a while to trigger them but I'm glad I didn't gave up because eventually I did managed to trigger 10 Free Spins - I won modest but decent $23.35 which brought my balance back up to just over $97. I was playing the slot for one hour and I thought that I should change slots, even though I enjoyed it.
I chose to play the "Untamed – Giant Panda" slot though I wasn't too excited about it. I know that sounds strange, but I was kind of hoping that this could be my lucky day and that I'd had a lucky hit or a good feature round. But nothing like that happened, Wild kept piling up slowly and when I got to $66 I finally started seeing some good from the Collect a Wild feature. I managed to get back up to $77, but decided to stop there. Even though I had a good playtime I still think that the base game is just rubbish. Perhaps harsh words, but that's my experience.
At that moment I just needed to take a break, at least shortly because I don't want my money to go to waste.
Markotik