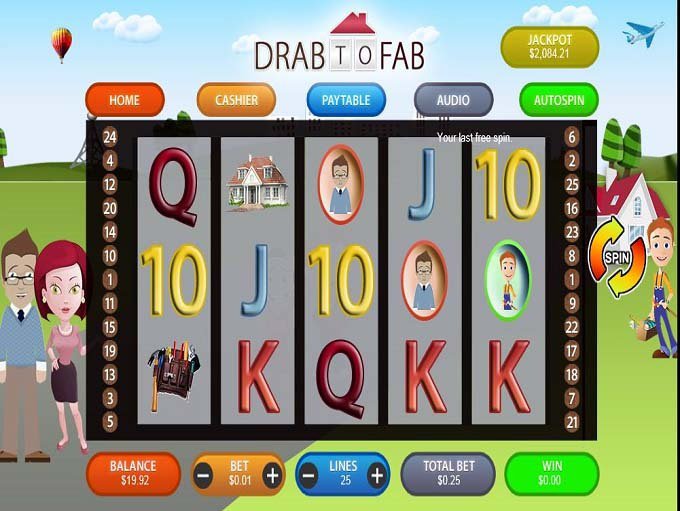 Quickly after I started gambling I started taking care of my budget; I didn't want to have any money left on my account, be careful about depositing, taking bonuses and being responsible. After all, money doesn't grow on trees. So, in case I have some money left, I know about it, and I'm secretly hoping I can raise my balance again.
I remembered that Drake Casino had added some interesting slots so I decided to try out new ones I haven't had a chance yet to play. I had just a couple bucks left on my account, so I just wanted to play that and see what would happen. I started off with the "Drab to Fab" slot and without even noticing it I triggered the free spins – I didn't even know what was going on because I wasn't familiar with how scatters looked. The winnings weren't too shabby under the circumstances; $13.50 seemed a lot at the moment. I got up to $20 with some nice wins, but I ended the session having $15 on my account.
The next slot I saw was "Days of our Slots" and it's a real slot version of TV soap operas. I got sucked in that world even though I'm not a fan at all. I didn't have to wait long for Free Spins; triggering 10 with 4x multiplier got me modest $5.60. I didn't have many dead spins, which was great but all wins were including weakest symbols so I couldn't really keep the balance stable. At one moment I felt like an average viewer caught in a web of soap operas against their will so I just kept spinning. I realized it was stupid and I shouldn't do it, but I just couldn't stop. When I came to my senses I still had $15 so I'm completely oblivious of what was going on, just the same as watching an episode of a soap opera.
This was surprisingly good and long session since I expected to be done after only a few spins. I'm quite happy about it.
Markotik