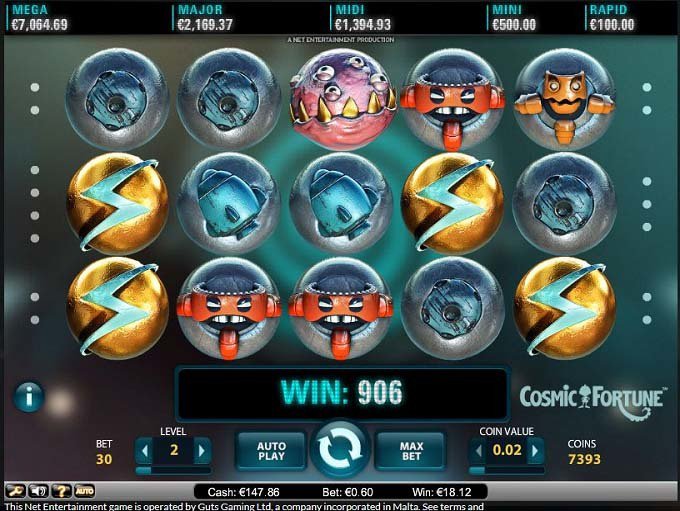 Last few times I've played slots at Guts Casino have been really disappointing; I haven't had any luck for some time there. The games seemed to be very tight and I just couldn't win anything. So, when this new slot "Cosmic Fortune" was released I just had to try it and I hoped it would bring something new, like wins, for example.
I started playing with €150 and €0.60 bet; even though the slot is very engaging and without many dead spins, I was difficult time keeping the balance stable. First time I triggered Free Spins I got four scatters; 15 free falls brought me €5.32 and 39 balls! In the second part of the feature I won additional €10.12 – luckily I reached the jackpot game totaling €18.2. I got free spins a few more time winnings around €15 every time but nothing extraordinary, like winning any of the jackpots, happened. In my experience so far with this slot, it really isn't difficult to trigger the features, but without winning a jackpot, I have to say that it's pretty futile playing this slot.
Having €135 now, I continued with the "Wish Master" and €0.80 bet. It started off nicely, and pretty soon I had extra and random wild with 3x multiplier for full 16 spins! My total winings got up to €57 launching my balance over €191. All that was happening in the first 10-15 minutes when I realized I was playing for quite a long time and I needed to get ready to go out. Perhaps that was good because we all know how tricky these slots can be – one moment you're having a blast and then BAM! You lose everything in a few minutes.
I couldn't be anything but happy for interrupting the session having €41 more on my account. And now I have some hope that it will continue in the same way.
Markotik