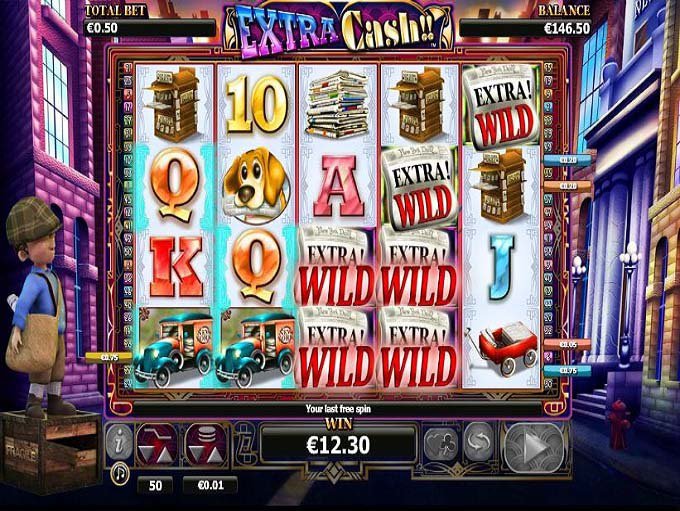 I remember my first job - I was working in a bookstore for a few months, which was a great experience; I met new people and we have stayed in touch ever since. It was a great way for me to earn some extra cash I needed for my studies; I like books and working with people so it was a win-win situation. Nowadays, whenever I think about extra cash, one slot with the same name comes to mind instantly.
I went to CasinoLuck to play the "Extra Cash!!" slot – it's usually my winning combination so I tried it again. I had €145 on my account and I started playing with a 50 cents bet. I needed quite a while to trigger the Free Games so I was happy when I did it. I got four scatters which meant 12 free spins. I was excited but unfortunately, I won very modest €12.30! During the base game I triggered the Re-spin feature many times but triggering the Free Spins seemed to be elusive. However, I did manage to trigger them again; this time eight free games brought me €10.15! I continued playing but I only kept losing money. At one point I finally realized it was to change slots, so I did it.
Then I chose a slot that, in my experience, is a money making machine because every time I'd played it before I would win something good on it. I'm talking about the "Medusa II" slot; this time my bet was fifty cents and the beginning was kind of promising; after some dead spins I would get a pretty good win so I managed to keep my balance relatively stable though without a real breakthrough. Unfortunately, after those few good wins all I got were dead spins. I couldn't stop because I was sure that it was going to pay at one moment, but unluckily for me, that didn't happen.
I guess this was just one of those days I want to forget as soon as possible. It won't be easy, but again, it's not the first time that this happened.
Markotik