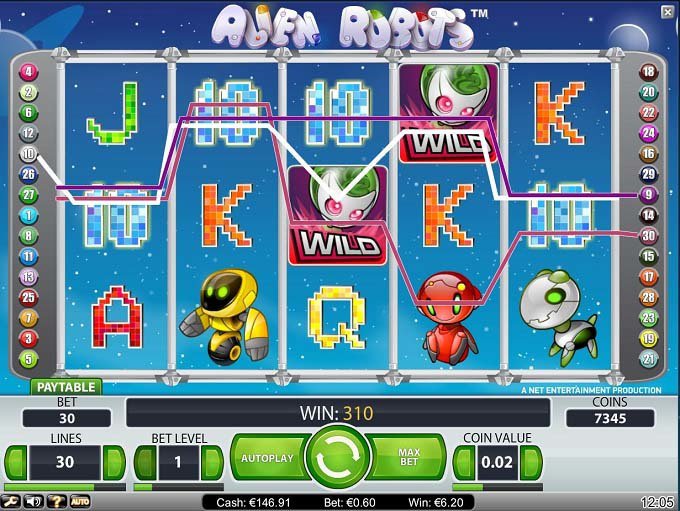 There are many people thinking about whether there is an alien life or not. I am one of them, though it's really hard for me to believe it; I'm skeptic about pretty much anything. It's a kind of difficult to wrap your head around the fact that when you look at stars in the sky, you actually looking in the past. So, some civilizations might have visited Earth long before humans, and are now extinct. Still, aliens are such a big inspiration for humans and no wonder there are so many alien-themed slots.
One of my favorites is the "Alien Robots" slot and I played it at Sin City Casino. I had €145 on my account; decided to play it with 30 lines and a €0.60 bet. The beginning was promising; I had some nice wins, raised my balance a little bit but then slot went cold on me – only one dead spin after another with occasional modest win. I couldn't trigger the Free Spins so that was disappointing. The slot can pay nicely but it just wasn't my turn, I guess.
Having €115 I thought it would be an appropriate time to try the "Dead or Alive" slot. My bet was 36 cents but nothing was happening. I knew how cruel this slot can be and I was ready for that but it is always difficult when I hope that it will pay well. But I didn't even have any decent wins, mostly dead spins. I lost around €50 on it when I finally came to my senses and stopped the disaster before I would lose any control over it.
Sometimes it is good to take a step back, breathe in some fresh wintery air, and when I continue playing, my luck might be changed. And it's always a good challenge to try and change the course and start winning instead of losing. It happened before, it might happen again.
Markotik