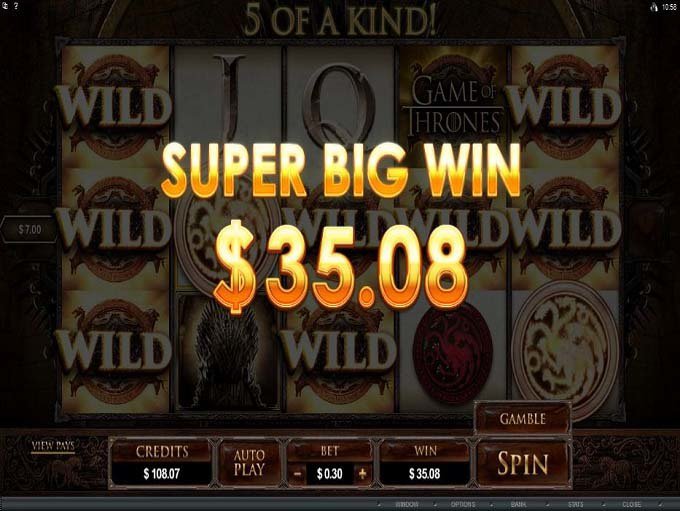 Even though it's a very popular TV show, I haven't seen Game of Thrones yet, and to be completely honest I have no intention of doing so. I forced myself to go through the first book; while I was reading it I knew that I wouldn't continue reading the sequels. It turned out it was a very popular book and I didn't get why, and the TV series as well. That hasn't change at all, but I just had to try out the latest "Game of Thrones" slot.
I went to Casino Action with $75 to try out the 15-line version. I have to admit that from the beginning the slot was very generous. I had some nice wins and my balance fluctuated between $72 and $76. And then I got a few of very nice wins and after only a couple of minutes I had over $105 on my account. I got one pretty decent win considering I played with a 30 cent bet of $35 and right in the next spin I triggered Free Spins. I chose the Lannister family - 10 free games with a 4x multiplier brought pretty cool $92.22; In just one spin I got around $75, which was amazing. I continued playing and I even managed to get over $200 though I stopped having $190.
I have to admit that I was really satisfied with the slot and I will surely give it a chance again. So, choosing my next game wasn't easy but "Alaskan Fishing" seemed like would a good choice. My bet was a bit higher but not too high – 60 cents, I had a lot of time to wait for a feature. In the beginning all I got were dead spins, with very rare small win and then BAM! In one spin I got $127.20! My balance got over $300! But then nothing again; literally, one dead spin after another. After I lost a bit over $50 I decided to stop thinking that $250 is a decent amount.
The fact that I more than tripled my balance was awesome. I wish I have more days like this one.
Markotik