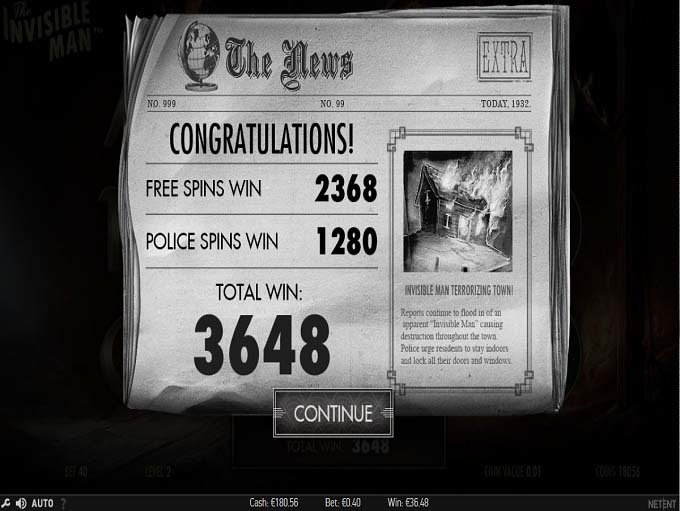 One of the movies I distinctly remember watching as a kid was The Invisible Man. Later on, I found out that there's a book available as well and I felt right away that I should read it. And I didn't regret it, of course; it is not a surprise that the book is considered to be one of the best novels ever written in English language. For some reason, when I first heard about The Invisible Man slot, I wasn't too excited even though I read it had many features, and it looked very neatly done.
Even before I played it my heart started to melt, and stared to change my mind. I went to Betsson Casino to try it out having €200. I started off with a €2 bet but soon I had to lower it to €0.80 bet. I managed to trigger the Free Spins very quickly afterwards and won €21.44 though without getting any other feature. I recovered my balance a little bit, got back to €195. After that I needed to lower my bet even more, to €0.40, and soon after I got the Free Spins again. This time I got to the Police Spins in which there are 3 Free Spins with five burning wilds, winning total of €36.40. Then surprisingly the base game became very generous and with serious of re-spins I got to €190. With another Free Spins I got to €206 which was great since I was as low as €130!
The next slot I played was the "Lunaris" slot and I decided for a €1 bet. Right from the beginning I had luck with the Mystery symbol, but in general I knew I had to be patient with WMS slots. The feature brought me quite a few wins of over €20 and my balance continuously was rising, though the whole slot was like a roller-coaster – playing the slot was relaxing and exciting at the same time. I don't play WMS slots often so this was almost like a new experience, and I'm very happy about it. I got to €235 without triggering the Free Spins feature.
I really like this session, it had everything a gambler needs – many excitements and winnings.
Markotik