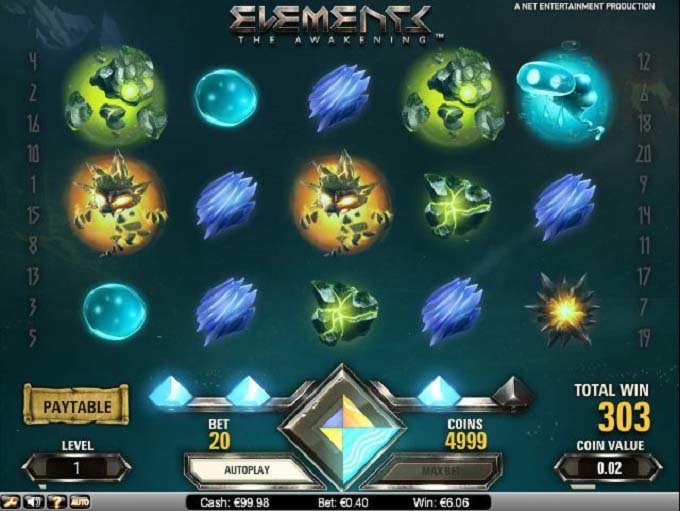 The New Year 2015 has started and I was up in the mood to try out my luck at an online casino. My choice was Maxino Casino; I hope it was a good place to start a new year even though I haven't played there in a long time. I was hoping I made a good decision especially considering I'd still been under the influence of the alcohol I drank during the New Year's Eve.
I had a decent amount of €100 to start off this adventure with the "Elements" slot. My bet was 40 cents and right off the start I could see that the base game was very generous. I often got three wins in a row but that fourth, to trigger the bonus, seemed elusive. After I lost almost €50 I finally triggered the Water Storm feature with 10 Free Falls! Since I was waiting for it so long I had high expectations but I wasn't that lucky. I won modest €13.14, which helped me get back to €70. What was very good during the session was quite a long playtime; I literally lost track of time and when I decided to finish I had €50 on my account.
It wasn't the greatest start of the year but at least I could easily find some positives – having a long playtime. I then continued the session with "Eggomatic" – that's a slot I've always found very interesting but never rewarding; I thought "New year, new rules!" I continued with a 40 cent bet having some nice wins and triggering 10 Free Games rather fast; the winning weas quite pathetic, only€1.40! In a very short time I got the feature two more times winning €4.60 and €3.50, respectively. I felt very tired so I didn't play this slot for a long time and I was happy to finish playing still having the half of my money.
This way I can continue later and perhaps with more luck – that would be hugely appreciated.
Markotik