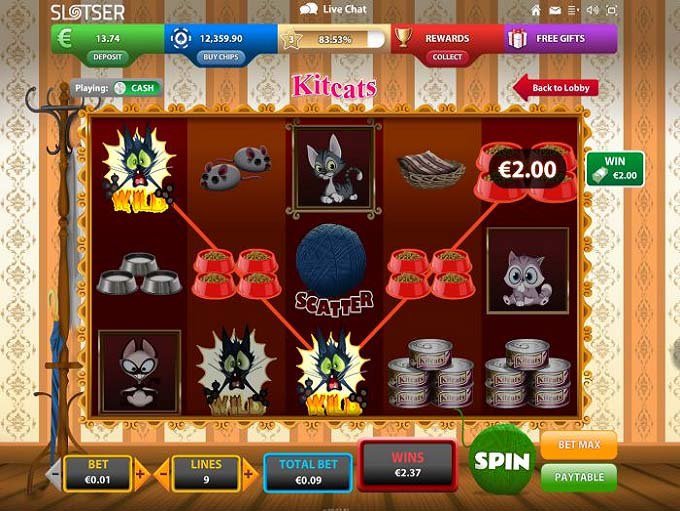 Sometimes I can't believe how many new casinos there are every few days; it is hard to keep up with all of them. I often get familiar with casinos after they've been online for quite a while – I simply don't have time or I've gotten favorite places so I don't look for new ones. It has finally come time for me to go to Slotser Casino. The first impression was very good so I looked forward to playing the games.
I first got 50 Free Spins and I used them on the "Candilicious" slot and luckily I won additional six free spins. I got over 7500 chips in total from these free games, so that was a good start. I then continued play for cash; I had €10 so the bet of €0.09 seemed quite appropriate. Pretty easily I got 10 Free Spins but the feature wasn't very generous – I got only €0.24. Then I triggered the Bonus and won €1.49. I triggered the Free Spins again, but I won nothing. Still, I managed to slowly build the balance having occasional dead spins and nice wins in the base game.
Then I found a wonderful slot "Kitcats"! Even though I liked the slot very much it was way tighter than the first one. After quite a while I finally triggered the Bonus game and won modest €2.20 after which I had more dead spins and features seemed impossible to trigger. I would get two scatters and two bonus symbols in a spin very often, and that made me a bit frustrated. I didn't trigger Free Spins even once. Still, occasional big win would recover my balance very nicely.
Slots looked refreshing but not too exciting due to many dead spins so I had a feeling like nothing was going on. On the other hand, it's a very nice site and I might come back for more games soon.
Markotik