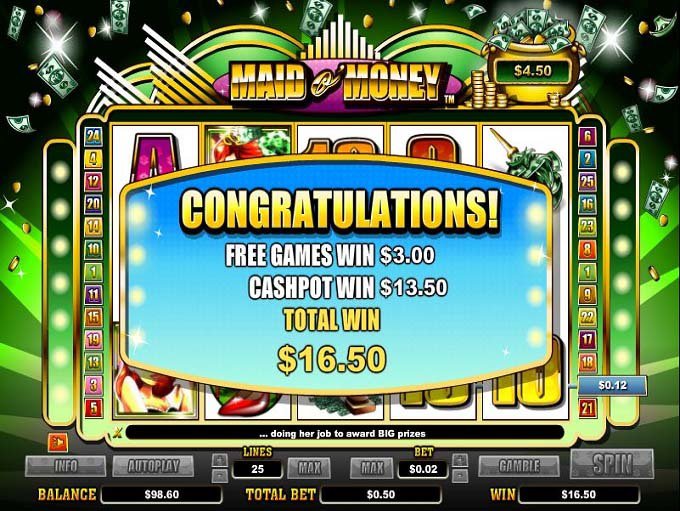 Money has a strange power over people; we always need more even when we actually have enough. Honestly, I surely would like to have more though I'm not obsessed with money, how much I have – it simply isn't that important for me. I might question myself where exactly is that threshold crossed, when there's no more moderation in anything, at all. Even though I'm not trying to get rich playing slots, they often remind me of it especially ones like the "Maid o Money" slot.
I went to CasinoLuck having $100 on my account and I thought I might start off a little bit riskier with a $0.50 bet. Quite easily with a bonus feature - some extra wilds I won $7.64 so that was a good start. All in all I had many dead spins and occasional good win which surprisingly kept me in a game for a long time. I did manage to win 10 Free Spins twice; the first time I won $16.50 and the second time $6.04. The slot has many features which could be randomly triggered during the base game but I wasn't lucky enough to experience them this time. I'm not sure how but I lost only $10 playing it. That was surprising because I wasn't really impressed with the slot so I might give it a change again.
I was very happy when I saw that they have added the Quickspin's "Goldilocks" slot. I just had to play it. Pretty easily I triggered 10 Free Spins in which I won $12.89 and soon after I won them again winning additional €5.54 which raised my balance to over $101. During the base then I then got a few big wins with Bears and I finished having $110. Unfortunately, I had to stop my adventure with Goldilocks, because I needed to go out; I was almost late since I've got so involved in slots.
I think this could be a good platform to continue the session next time I get a chance and I'm pretty sure about which slot I'm going to play.
Markotik