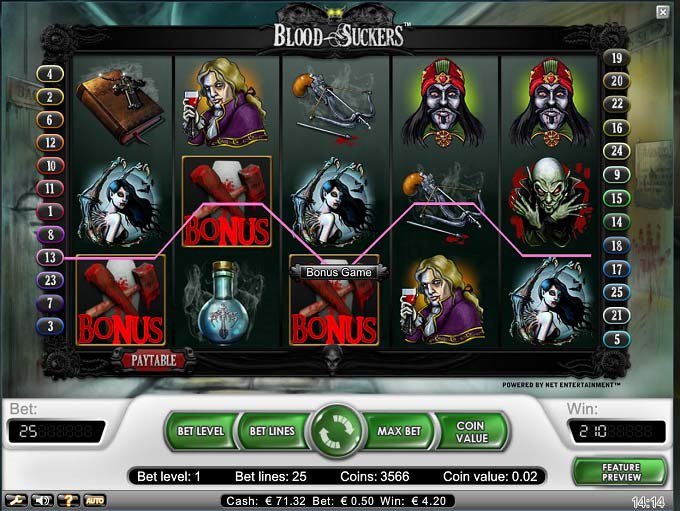 I've already played the "Game of Thrones" slot a few times and I really liked the game though I guess I need to point out that I've only played a 15-line version so far. I went to one of my favorite, Sin City Casino to try out a 243-line version since I've seen some amazing wins on it. I had €100 on my account but I decided to play with the minimum bet of €0.30 hoping I would be able to give it enough time to trigger the feature. Unfortunately, the slot proved to be very tight and wasn't giving anything away. Believe it or not I lost only €20 when I decided to stop playing the slot. I can't say there were only dead spins but all wins were very modest so I got to €80 very quickly.
Now when I look back I can say that I was kind of proud of myself I manage to stop when I saw that obviously it didn't work for me this time. In these types of situations it's difficult to be disciplined because there's always hope that the next spin might be a winning one.
Then I chose to play the "Blood Suckers" slot but I think I made a mistake when I kept a bit higher bet of €0.50. I had many "so close" situations – I was really unlucky with positioning of the symbols. Perhaps it sounds funny but I could have easily had over €100. Instead of that I lost another €20 before I stopped. A bit differently, I had some nice wins in the base game and I even triggered The Bonus Game when I won very modest €4.20; though I have to say I've never had much luck with that bonus game. There is only one good thing that I can take from this session – I was moderately patient and very disciplined. I think that next time when I continue spinning, it can only be better.
Markotik