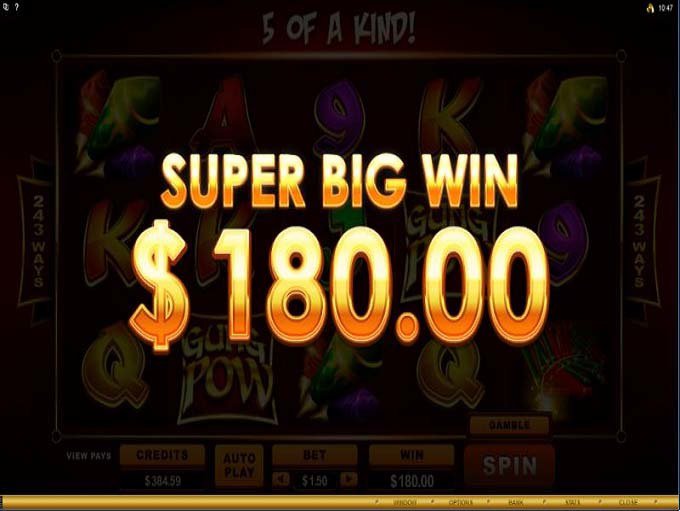 Even though our Earth is so small comparing to many other objects in our universe, it's still enormous for us humans. I often think about the fact that I won't be able to visit some places – very distant places to which is very expensive to travel though I've already visited Panama which is over 10,000 km (over 6,200mi) away from my home. Who knows… maybe I will have a chance to travel the world. I've always known that in case I won a nice jackpot, doesn't have to be too big, I'd use that money for traveling. On my latest quest, the next stop was my favorite – Casino Action.
There are always so many slots to choose from and this time I started off with the "Gung Pow" slot. Having $250 on my account I started off playing with a $1.50 bet. From the first moment I liked the slot very much. It doesn't have any fancy features, but still… the base game is so good; there aren't too many dead spins, and I had quite a few of five of a kind wins - weaker symbols but the winnings were considerable nevertheless. For me it was very entertaining so I completely lost track of time! At one moment I got a five of a kind win with a strong symbol and I won absolutely amazing $180! I couldn't believe I have gotten to $384.59! I continued for a while longer but stopped having $350.
Feeling very satisfied I continued this adventure with the "Castle Builder" slot. I played with the $1.5; I thought about raising it but the next bet size was $3 and that seemed a bit too high perhaps. From the start I could have seen that I made a good decision. Very satisfying base game and triggering the feature by building a castle didn't seemed to be very difficult. I got it quite a few times winning up to $31. I eventually stopped playing having amazing $391!
I had to take a break from spinning but I can't wait to go back to this adventure.
Markotik