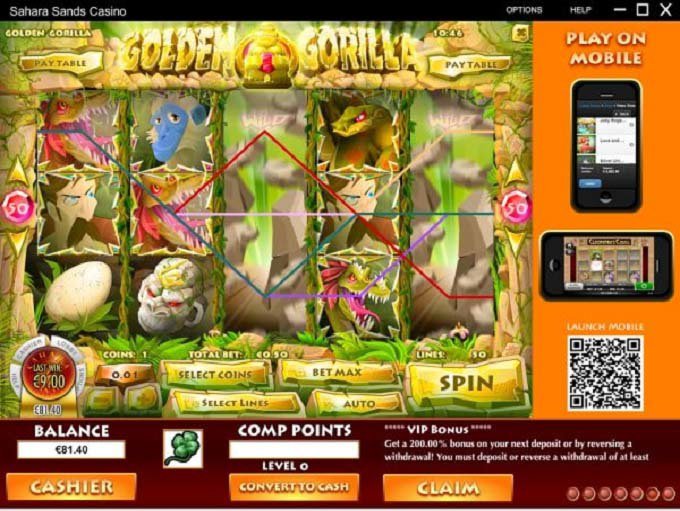 Sahara Sands looked like a very nice place – perhaps typical Rival casino, but with some different finishing touches. I enjoyed the layout for a while but I was more interested to see whether I'm going to win playing slots there or not. It was my first time trying out the casino so I thought it would be good to start playing with €75, which put me on ease since their new slots are 50-line ones.
So I had to try out one newer slot called "Golden Gorilla" – I didn't expect much because I played a few of their newer slots with no luck whatsoever. The base game was okay; some occasional good wins, but then all of a sudden a series of dead spins crept in so nothing entertaining was happening. I couldn't even trigger Free Spins – I kept getting two scatters over and over again, and I stopped having €40.
Then I went to one, more familiar slot "Winter Wonders"; I remember having some nice wins there so I thought I give it a chance again. My bet was €0.30 and very fast I got 10 Free Spins with a 3x multiplier. I won only €1.92 which was very disappointing. After that nothing special happened; I got bored but I wasn't ready to give up – I had one more slot in mind to play.
That was the "Baby Boomers: Cash Cruise" ¡slot. Since I had lost so much already I continued with a €0.15 bet. I kept spinning but again nothing, I guess it just wasn't my day. I did manage to trigger the bonus round, a trip to the Caribbean, but still… it wasn't successful at all – one dead spin after another. After a while I became impatient and decided to call it a day, and end this torture.
This was now fourth or fifth time in a row that I didn't have any luck playing Rival slots; they have been very tight no matter where I played them.
Markotik