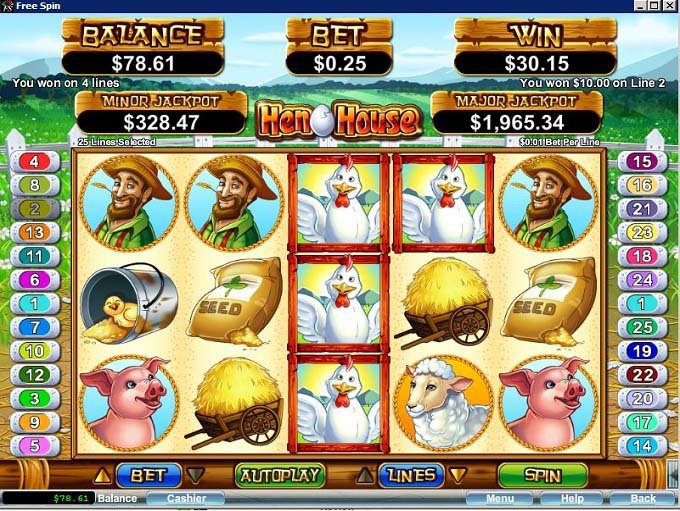 I've been following tennis matches at Australian Open for almost two weeks now and I have to say, there have been some big surprises but importantly it's been entertaining to watch. Now, there are not many things I like to do more than watching and playing tennis, but one of those is playing online slots. Sometimes I even play slots and watch tennis at the same time – now that's what I call multitasking.
So, this time I had to go and play slots which were going to keep me alert for sure. I went to Free Spin Casino and started off playing with $55. For some time I was planning to spin the "Henhouse" slot but for some reason I kept delaying it. I used to have some good results on it, but after a while I started having second thoughts imagining it might not pay me that well again. My bet was $0.25 and right away I had some nice wins after which the slot turned completely cold. After series of dead spins I hit an awesome spin winning $30.15! I got to just over $78, and a bit later on I got 13 Free Games with x3 multiplier. The winning was very modest – just $4.82 but it was easier to continue playing. Luckily, a few more really nice wins helped me finish having just over $80.
I was looking for another exciting slot and "Ninja Star" caught my eye. It started off really well – I got over $85, but then nothing good happened. It was literally one dead spin after another and when I got down to $70 I forced myself to stop. It was obvious, even to me, that the slot wasn't going to pay. One of the things I really don't like is when I keep getting only two scatters over and over again, and that was exactly what was happening. At least I raised my balance a little bit and that's still great.
Markotik