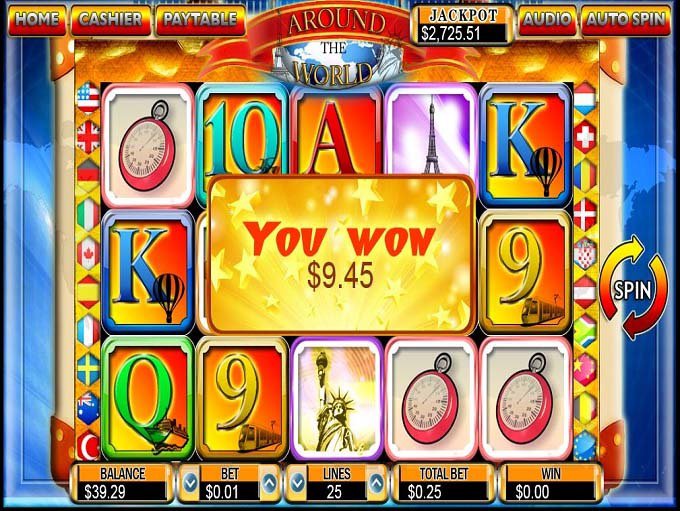 As I'm sure everyone else, I have so many dreams I'd like to fulfill one day. But there's something I don't have enough – there's never enough money. One of my biggest dreams is to travel the world. The first chance I get I will go to Iceland and Norwegian fjords, and that's the way my trip around the world would start. But if not the whole world I hope I will get a chance to see my favorite places that I've seen only on pictures so far. Maybe one day I will win a jackpot playing slots…. there's always hope. In my last quest for a big win I went to Drake Casino.
I had $35 on my account and decided to go for the "Around the World" slot even though I didn't find it too exciting at the beginning – I just liked the name. The bet was $0.25 and after a few spins only I got 10 Free Games! I won modest $9.45, but I still thought it was a good start, and I continued hoping there was much more to come. But soon I realized that wasn't the slot that was going to pay my trip around the world. I continued playing for a while longer but as the time passed there were more dead spins than anything else.
Then I saw "The Winning Dead" slot which theme, for me, was obviously taken from The Walking Dead TV show. It's not that I like or watch it but I've heard of it and tried to watch a few episodes – that obviously didn't go well. The slot was pretty much the same – nothing extraordinary happened end I was losing money fast. There were many dead spins but I guess that shouldn't have been too surprising because they both were the part of a live Progressive Jackpot network. The Jackpots were pretty good, up to $5000 so perhaps I just wasn't lucky enough. Any anyway, next time might be luckier for me.
Markotik