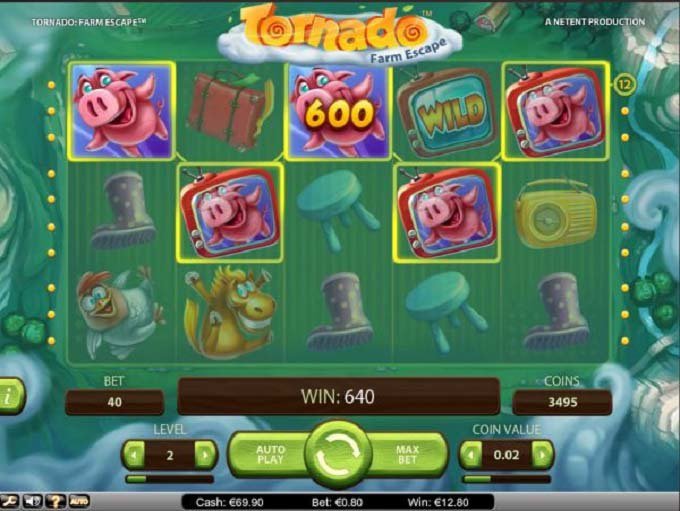 Having a good gut feeling is very decisive for me in choosing where to play or which games I could try out. Sometimes I have it, but sometimes I don't so in those situations I just go with the flow, and often choose new games or ones that are popular at the moment. I went to Guts Casino and since they have so many different slots I chose to start off with "Tornado – Farm Escape".
I had €100 on my account and since I didn't want to risk too much, my bet was €0.40. Really quickly I triggered the Tornado feature and with 9 symbols collected I won €9.60, which I thought was a nice start. There were some nice wins with the Storm feature throughout the session but I had to wait a really long time to trigger the free spins feature again. When I finally got it I ended up with additional €6.70 and 14 symbols collected. When I got down to €70 I decided to raise the bet to €0.80 and see if I can do anything with it. Nothing spectacular happened but some nice wins with the Storm feature kept my balance just over €70.
Then I saw a new slot called "Miss Midas" and I thought it would be a good thing to play with the Super Bet - €0.50, but since it wasn't really beneficial it was better just to play with a regular bet. The slot looked interesting at first but rather quickly I got bored – I easily get bored with slots that show some kind of potential but where the actual play is very uneventful. When I finally triggered Free Spins I won only €2.02; that was very disappointing since I got 15 free gams.
That was when I decided to stop having €56 – I felt I just need a break to regroup myself and continue more successfully.
Markotik