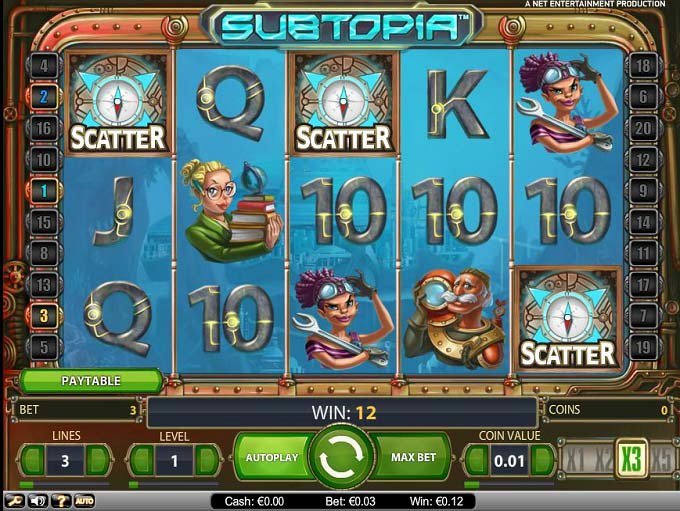 I remember when I was a kid I used to watch the "Sledge Hammer!" series on TV. I was sad that it was such a short-lived show only two seasons I think but it was quite funny. When I first saw the "Jack Hammer" slot I was reminded of that show I watched so I've always been enjoying the game as well. This time I chose to play it at Maxino Casino and hoped for a good outcome.
I had €50 to play with so I started with a minimum €0.25 bet. Unfortunately it was a huge disappointment. I had only occasional wins and when that happened, it was with the weakest symbols only. My practice is that when this things not going my way I stop after I lose a half of my starting balance. And that was what I did; I had €25 left to turn things around.
I then chose the "Subtopia" slot and a €0.20 bet seemed even better to me. It started off nicely with some nice wins that kept my balance relatively stable. Quite fast I triggered Free Spins; I got 19 Free Games in total but the winning was quite modest, €4.94. After that nothing was happening and I got close to zero. I first lowered my bet to €0.05, but on my last spin I had to lower to €0.03 and completely amazingly I triggered 14 Free Spins! I won solid €2.30 considering the bet size.
I then decided to try out different slot and thought "Piggy Riches" would be appropriate. I had some nice wins and I had a lot fun even though I didn't play it for a long time. It was entertaining though I knew I was only avoiding inevitable. So when I sum everything up, it's quite strange I had a fun time playing these slots considering I lost €50 relatively fast.
Markotik