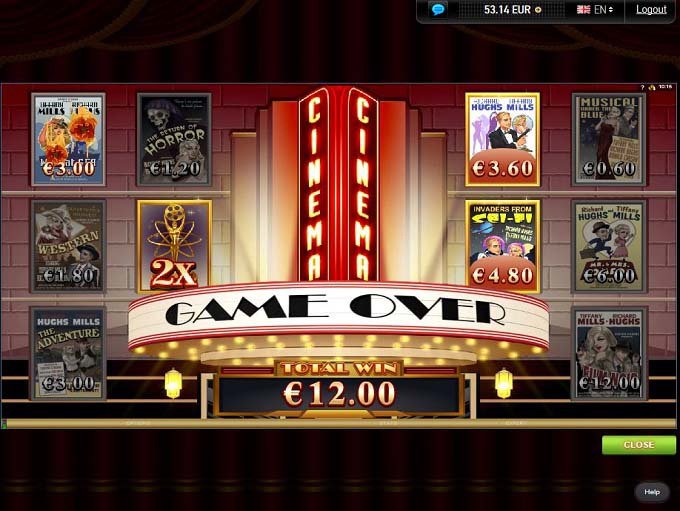 I am a big movie fan so it is not strange that I enjoy movie-themed slots. Anything related is very intriguing even though being an actor has never been one of my dreams – I just like to watch movies. I expected a lot from a new "Golden Era" slot. The first time I tried it out I was very happy with it and I thought it could be wise to play it for real; and it's very affordable to play since the minimum bet is only €0.15.
I chose the Sin City Casino having €60 and surprisingly I doubled my bet. It seemed to me that €0.30 isn't risky and that I would have a decent amount of time to trigger one of the features. The base game wasn't promising; way too many dead spins and the only wins I got were with two scatters which made things even more irritating. Wilds were appearing quite often, even two or three in a spin, but they were positioned really badly. They were completely worthless!
I finally did manage to trigger The Bonus feature and I chose Double Feature Bonus, at the end winning €12. I got up to €65, I thought it was a nice change but as I continued, I was proved wrong. The amount of dead spins was astonishing. I lost €20 fast and easy, and this slot turned out to be a complete disappointment.
Then I tried a slot I simply adore, it's "Goldilocks"! Playing with a €0.25 bet the beginning wasn't too promising but quickly I triggered 10 Free Spins! I won modest €10.76 and got a bit over €50 again. I should have stopped there because I lost €10 in a blink of an eye – it was one dead spin after another. Even though I didn't lose too much I had to stop having €40. My balance was melting and I wasn't sure what to do next.
I decided to take a break and continue later; I hoped it was a good idea.
Markotik